My First Tall-Ship Encounter

December 1994 – January 1995
Say "hello" to the Golden Plover. She is a 30 meter, single rigged top gallant brigantine with seven fore-aft sails and three square sails. We found her in Cairns, Australia.
The first two pictures show her, first at anchor with all her sails furled, and second under sail. The third picture is one of the crew is standing on a yard, tending the rigging.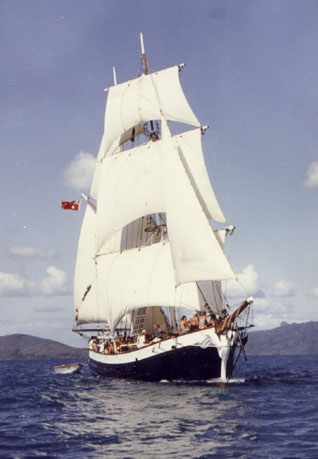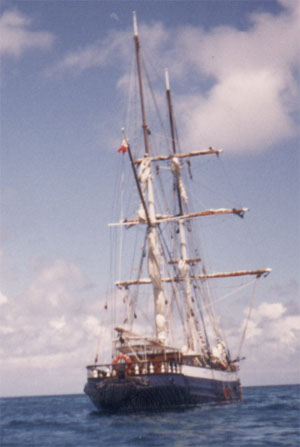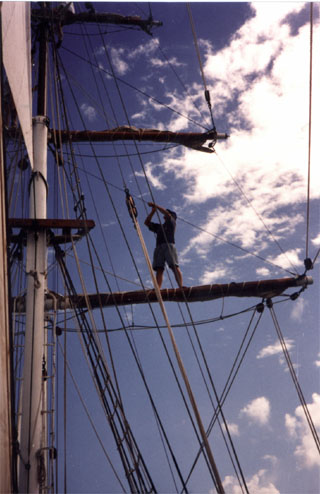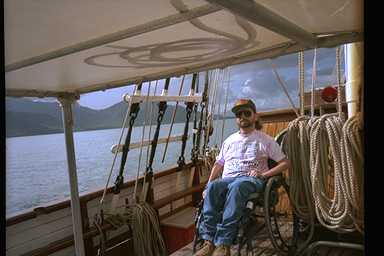 On the left, I'm sitting on deck. I learned a lesson about wheelchairs that tip easily and ships that pitch, yawl, roll or otherwise move in three dimensions. Years later, I had a friend make me some sea-legs that attach to my chair and keep me from flipping over backwards. Later, my brother Mike improved on them (see a picture of them in the 'Inventure' section of the Travel Gallery).


We anchored near Upolu Cay on the Great Barrier Reef. The moment of truth was rapidly approaching as we considered ways of getting me into the dinghy, then into the water. Trevor told me there was a distance of eight feet between the ship's railing to the sea below. I would somehow have to be lowered from the Plover to a dinghy. I told him that since I became paralyzed, I had gone skydiving, whitewater rafting, and cliff climbing and that this obstacle was far from formidable. I was confident that we would find a solution.
After discussing various options, we agreed on one way to get me into the dinghy. As we neared our destination, Doug, one of the Plover's crew, suggested he carry me over his shoulder in a "Fireman's carry". In practice, this turned out to be less than optimal. As he carried me over the side of the ship, he found his balance waning. He was forced to sit me on the ship's railing, where I was balanced by two of the crew. From there, I was lowered to the dinghy that bobbed up and down in the sea like a toy. The crew found their sense of balance challenged by the undulating seas, but they had plenty of heart and saw to it that I got safely lowered into the dingy.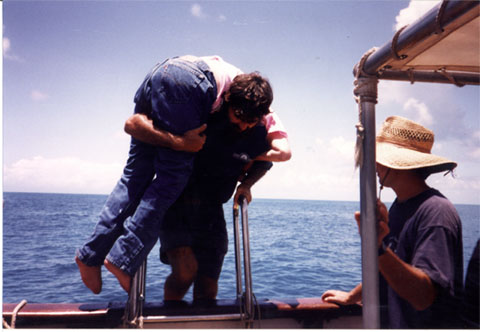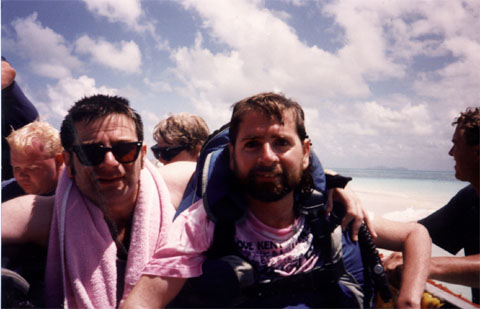 My second tall-ship encounter in Australia was watching a replica of the Endeavor coming into Sydney Harbor. The two pictures below are blurry, as they were taken at a great distance.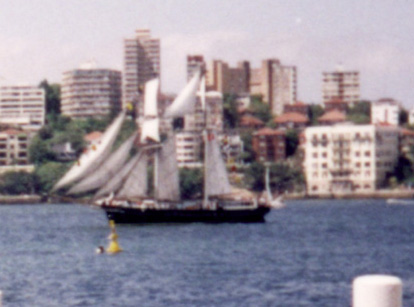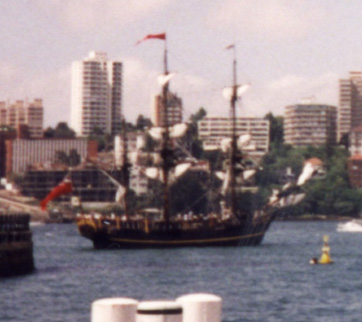 At the bottom, are two museum quality replicas of the Endeavor.
The BBC and the History channel have built another replica of the Endeavor, that I believe was finished in 2001. Endeavour, below, is a museum-standard replica of the ship Cook used on the first of his epic voyages in the late 1700's. She was built in Fremantle, Western Australia, using the wealth of information available at the National Maritime Museum, Greenwich. The original 18th century vessel was a type known as a Whitby Cat.