Cayman Br
Underwatr
June 2003
Here I am on the transom as Rich gets ready to give me a close-up view of Davy Jones Locker. If you look closely in the lower left corner, you can see Jill the Divasaurus.After Rich adjusts my mask, he dumps me into the deep blue.Would you trust this guy?These fish were a real pleasure to watch. they are called Flying Gurnard. Flying Gurnards are easily recognized by their large, wing-like pectoral fins. Contrary to their name, they do not actually fly. Their large fins help them to swim low over the sand as they search for food. We saw three of them feeding.Eagle rays seem to love cruising along the walls and drop-offs in Cayman. The eagle rays feed on mollusks and crustaceans. They may also be seen sometimes in the sandy shallows throughout Cayman when they go to grub with their flexible snout in the sand bottom for food. One ray with a 6 foot wingspan stopped right in front of us to feed. They also have heavy dental plates with which they crush their food. Eagle rays can reach up to 8 feet across and are said to sometimes leap out of the water like other large rays, such as the manta. Eagle rays generally have long, thin whip-like tails with long spines near the base.That's me and a Divasaurus.Me with Chad.We saw some huge coral formations.Me and "Marathon Man" Davin.That's Kyle above me.We found some great swim-through's.Gosh that was fun.That's me and Chad going through a swim-through above; on the wreck below.Me and the Dav-meister explore this Russian frigate.This strange looking fish is known as a JohnJack.Sherrie.A trunk fish just below Chad.
I believe that's Jill and Sherrie posing with a dolphin statue. No trouble getting close up pictures of Cayman Brac dolphins and stingrays these days thanks to the work of sculptor Dale Evers. In January a bronze sculpture of two dolphins and four stingrays was set on the bottom of the sea just off the coast of Cayman Brac. The statue weighing 3500 lbs. was created by sculptor and diver Dale Evers as a joint effort by Cayman Islands Department of Tourism, Oceanic and the Sister Islands District Administration. The statue was sunk at a shallow dive site called Radar Reef on the north shore of the island. Sitting at 45 feet on a sandy bottom, the dolphins and stingrays are surrounded by spurs of colourful coral.
The following pictures were taken by Kiran.
Hawksbill Turtle.Joe likes to swim upside down.Porcupine Fish.That's me between Blond and Blonder (Sherrie & Jill).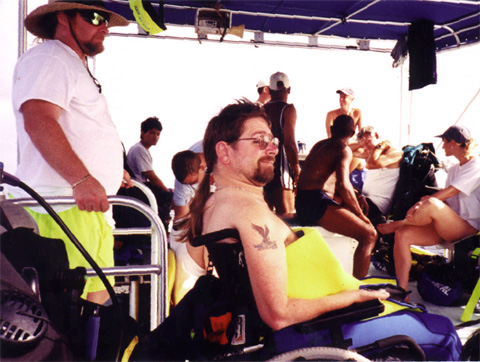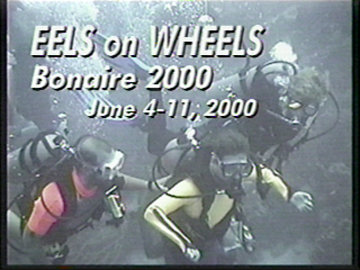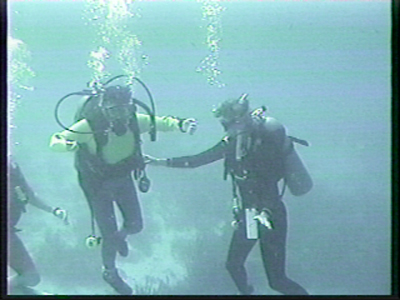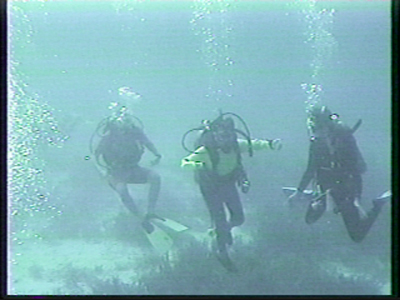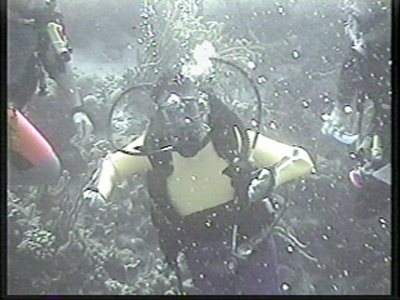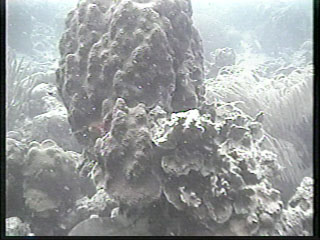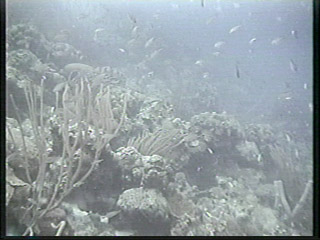 Belize
---
In addition to seeing all the beautiful fish and coral, we also had the opportunity to dive through a wreck and caverns.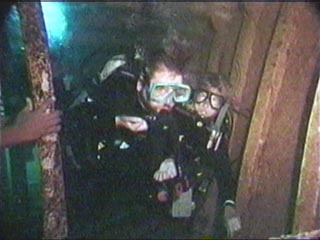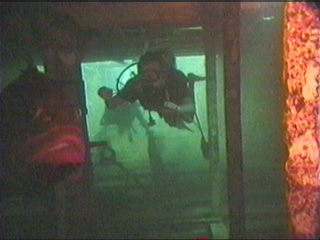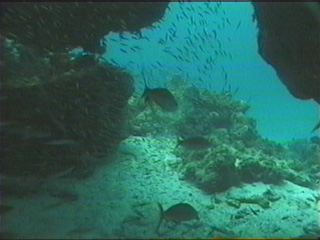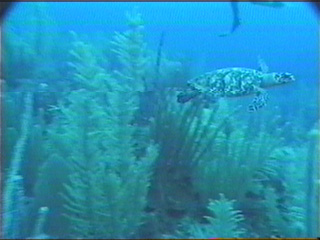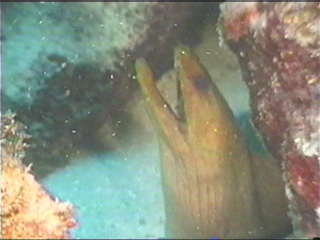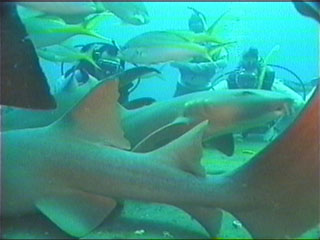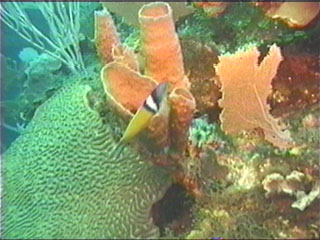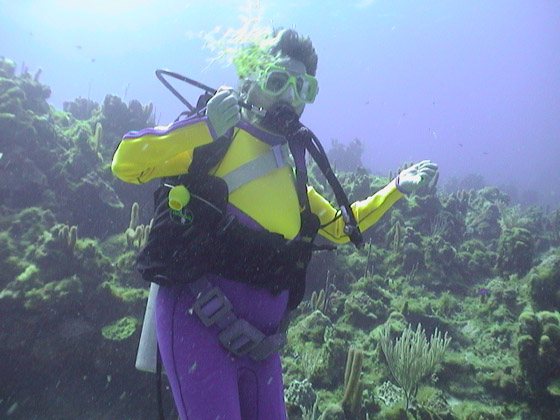 You can see me in my custom made wetsuit. It has zippers on the arms and legs which makes it very easy to get on or off. Email me for details on how to get one.
Notice the light colored strap over my shoulder, across my chest. My weight belt kept falling down past my slender waist so Chad used an auxiliary belt to hold up my weight belt.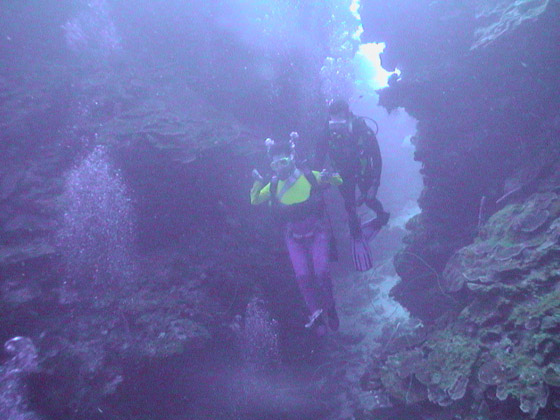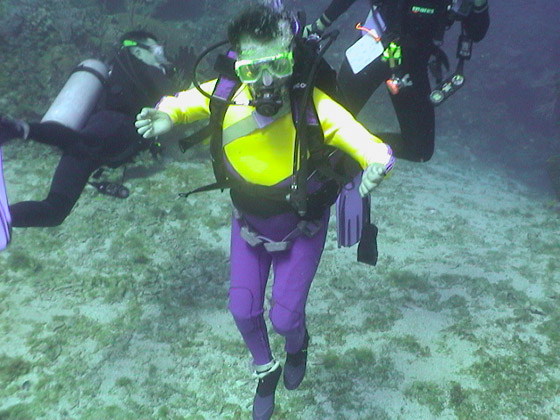 My dive buddies, Chad and Patsy, noticed a couple of huge sharks coming towards us. They swam off to get help while the photographer (God rest her soul), and I fought off the shark.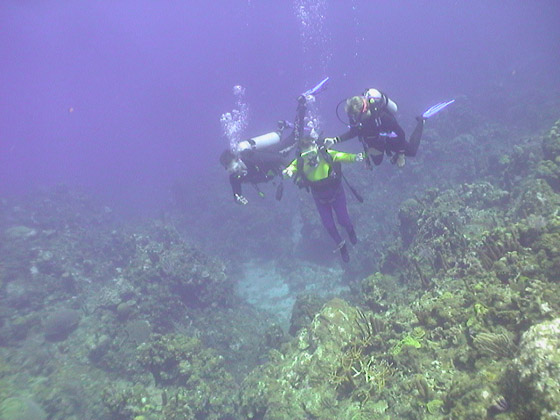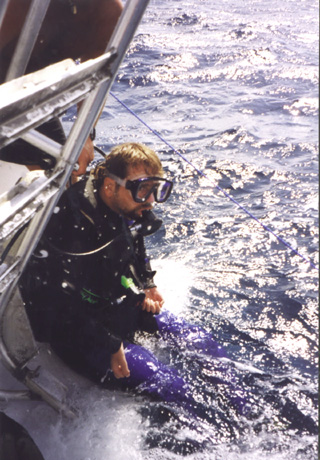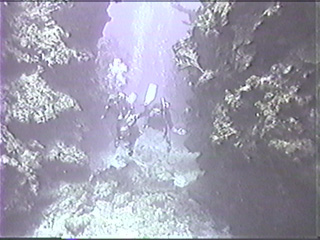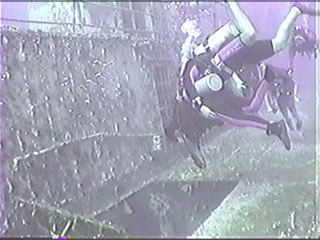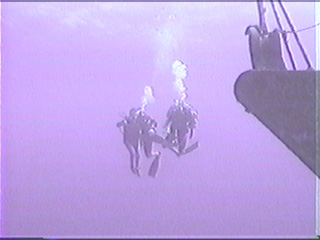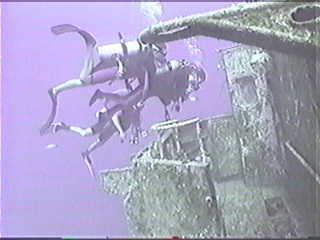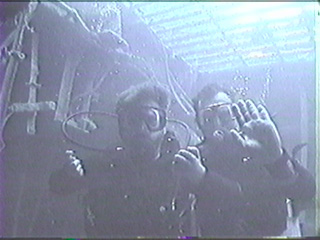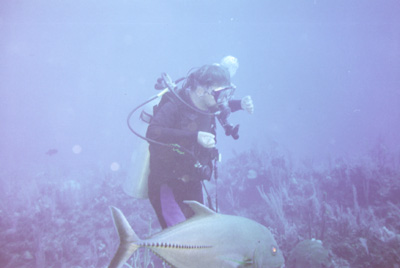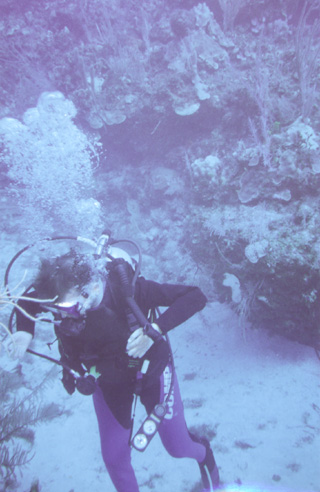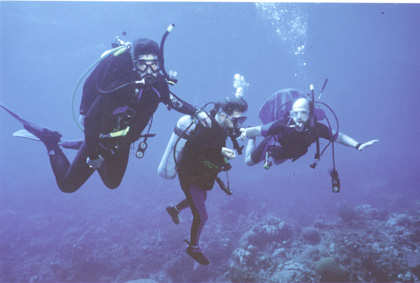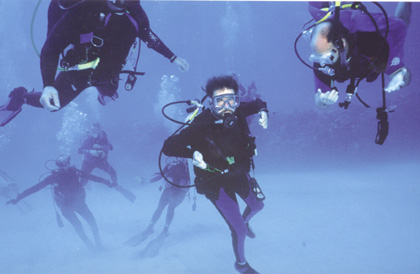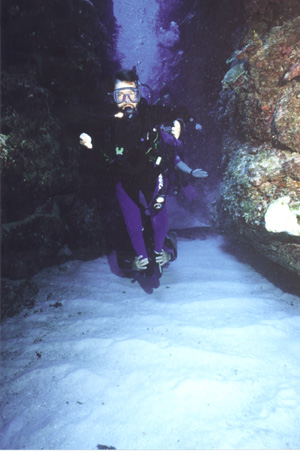 Cayman Brac 2
---
Underwater
June 2003