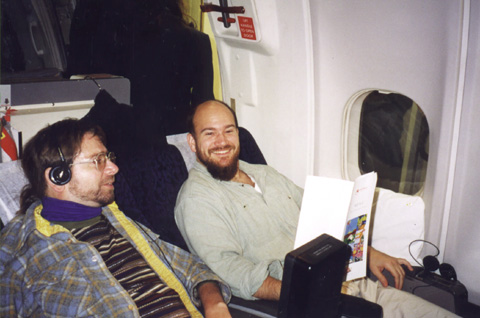 Davin and I flew first-class from Memphis to Boston and on toAmsterdam on Northwest Airlines. Thanks to NWA flight attendant, Lynn McDaniel, the Boston to Amsterdam trip was fantastic.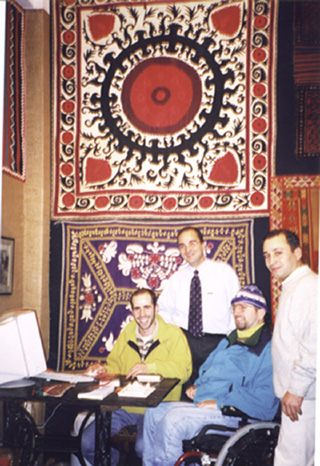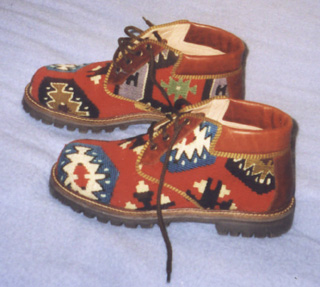 We made some Turk friends at a carpet shop. Here I am with Faruk and Ümit, checking out my web site on their computer. I also bought these cool shoes from them. They sell the best carpets in all of Turkey. Send an email to them at sufi_deri@hotmail.com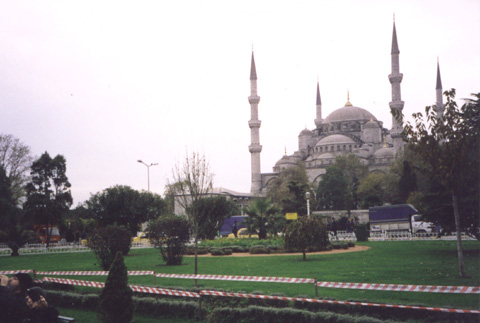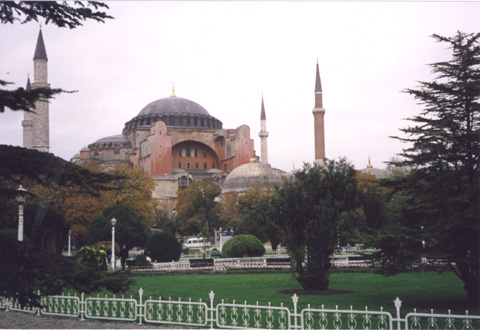 Above is Hagia Sofia. It is the most renown Byzantine Cathedral and best known Christian church in Istanbul. It was converted into a mosque in the 15th century. Its wide, flat dome was a daring engineering feat in the 6th century, and architects still marvel at the building's many innovations. Called Hagia Sophia in Greek, Sancta Sophia in Latin, Ayasofya in Turkish, it was built on the site of Byzantium's acropolis by Emperor Justinian, completed in 537 A.D.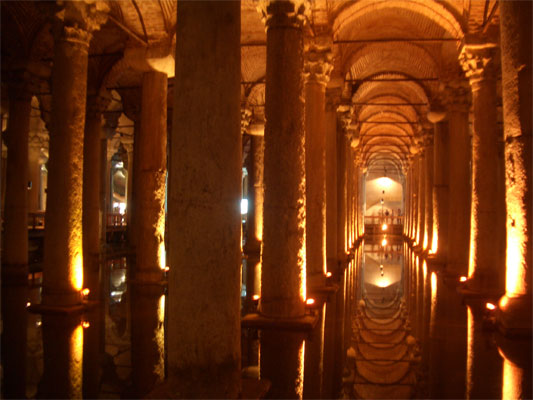 Across the street from Hagia Sofia, and underground, is the Basilica Cistern (Yerebatan Saray) or Sunken Palace Cistern because of its size (70 x 140 meters, or 2.4 acres), its capacity (over 21 million US gallons) and its 336 marble columns. Remember the scene in the old James Bond movie From Russia With Love when Bond is rowing in a small boat through a forest of marble columns? That scene was filmed in Yerebatan. It is an enormous water reservoir built in 532 by emperor Justinianus. It was built to provide the big palace with fresh drinking water. This great example of Byzantium architecture was kept hidden from most of the armies that conquered Istanbul (or Constantinople). It was discovered a century after the Osman occupation of the city. Some soldiers saw how civilians brought up buckets of water and even fished through holes in their cellar floors. We weren't able to get into this cistern or the Hagia Sofia. I recommend checking to see if they are open before scheduling a trip. Turkey is very rich in history.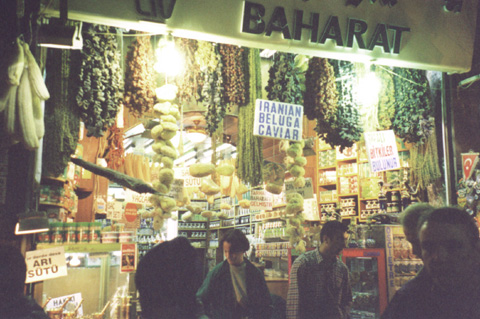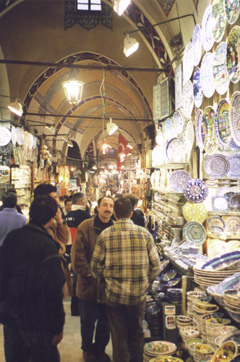 The Covered Bazaar, above, covers 65 streets. Built in 1461 it is the largest market in Istanbul. The Spice Market, below, has every conceivable spice and many other sundries. It was completed in 1660 A.D.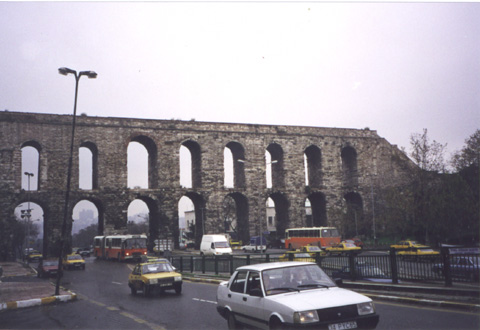 The Aquaduct of Valens was completed in 378 A.D. At 1,000 meters in length, it is an engineering marvel. If the slope of this structure was too shalow, water would collect in pools on it, rendering it useless. If the slope was too steep, water rushing down the Aquaduct would damage the Aquaduct itself as well as its ending point.