Bangkok and Surrounding Area
---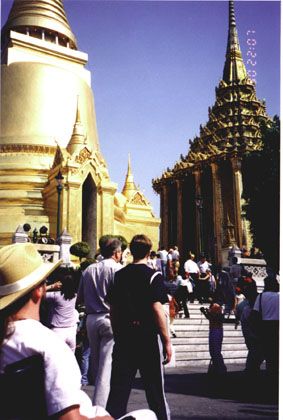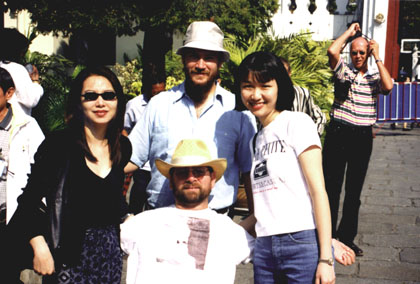 These status seekers surprised us. We were walking around the Grand Palace in Bangkok when I heard, "Good morning Mr. Rodgers." I turned to find the stewardesses from the airline. I'm sure they just wanted to be in a photo with me.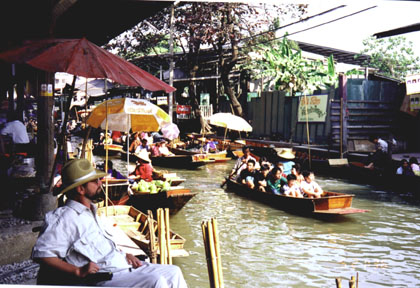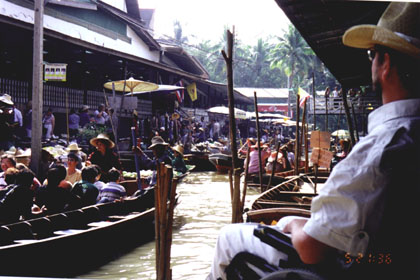 These shots were taken at Wat Sai floating market in Thonburi, near Bangkok.
We rode in one of these boats, called longtails, through the city's extensive network of canals.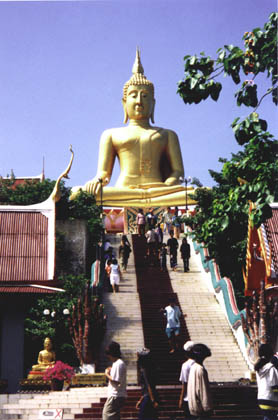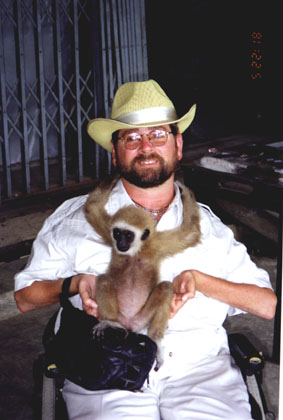 The Golden Buddha statue is the largest golden Buddha statue in the world. It was created (13th century) when Sukhothai was the capital of Thailand. It is made of pure gold. The figure is unrivalled in beauty, measuring 12 feet 5 inches in width, height of 15 feet 9 inches from the base to the crown and weighing approximately 5 tons. Now more than 700 years old, it is a valuable treasure of Thailand and of Buddhism. When the Burmese were about to sack the city of Ayuttaya, it was covered in plaster to hide its value. Two centuries later, still in plaster, it was thought to be worth very little. But in 1957, when the image was being moved to a new temple in Bangkok, it slipped from a crane and was left in the mud by workmen. In the morning, a temple monk, who had dreamed that the statue was divinely inspired, went to see the Buddha image. Through a crack in the plaster he saw a glint of yellow, and discovered that the statue was pure gold.
We compared traveling on an elephant verses traveling in a jeep. If you look closely, you can see I took the back wheels off my wheelchair and had Davin tie my wheelchair securely to the seat on the elephant. The wheelchair gave me support on my back and sides. It also held my feet up. The elephant handlers assured me I wouldn't need it, but I knew, from riding elephants in Nepal, that it would be helpful.
I'm using a Quickie wheelchair. Since Quickie uses inferior materials and have fundamental design flaws that allow it to fall apart under normal use, I recommend using a different brand name.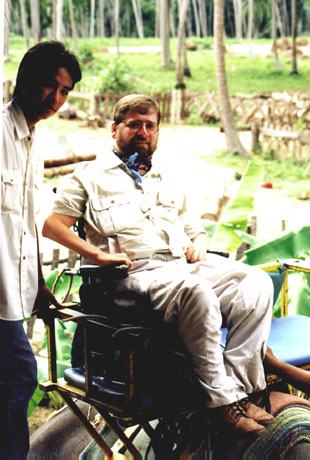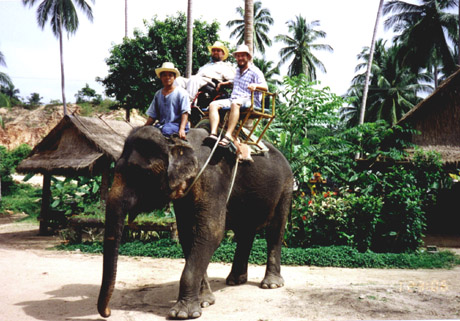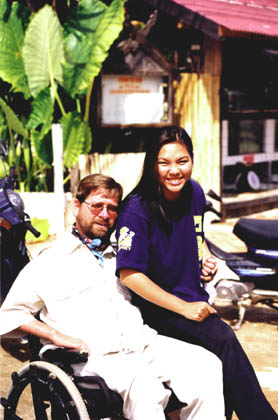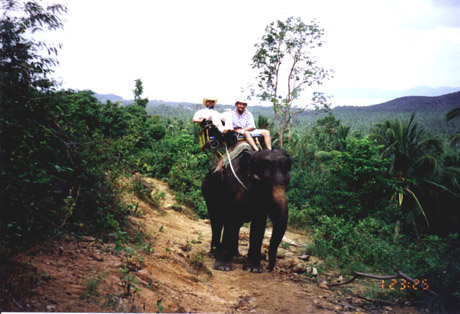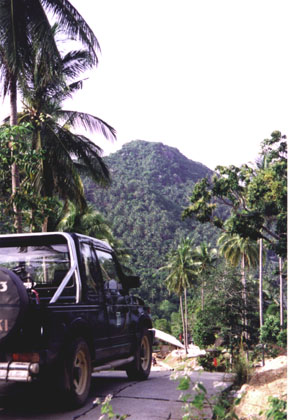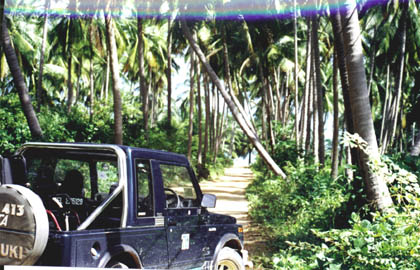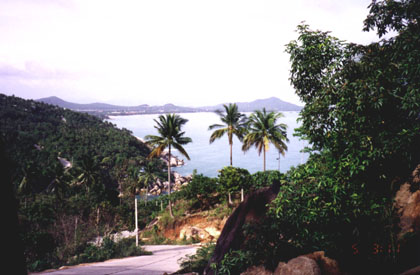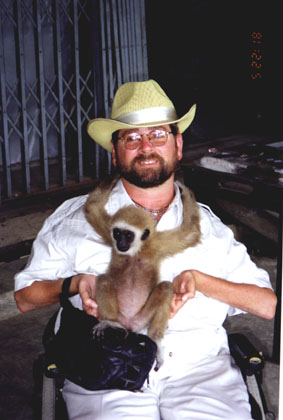 Ko Somui
---
We spent a lot of time on the island of Ko Samui. You can see it on the lower central part of this map, in red.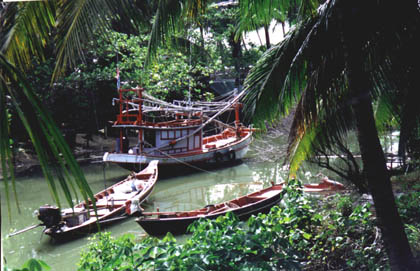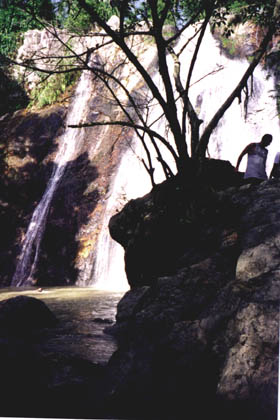 Thailand is a photographers dream. Everywhere we looked, there seemed to be a photo opportunity.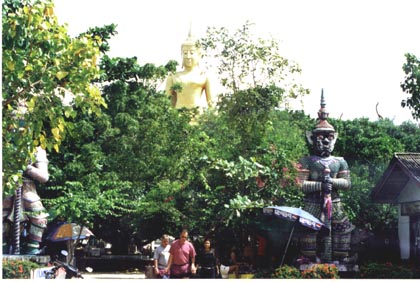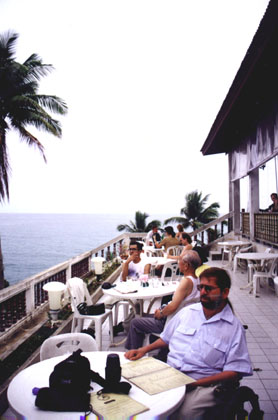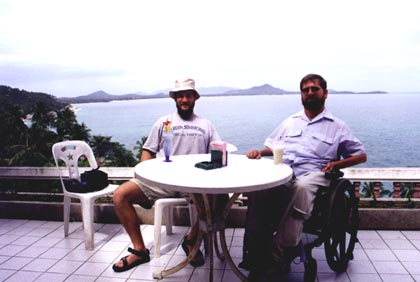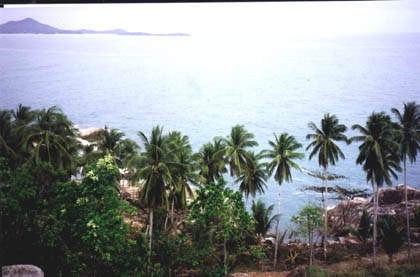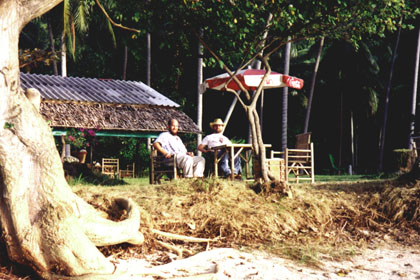 We stayed at the Oriental Hotel on the island Ko Samui. Our room was finished (built) just hours before we arrived, otherwise we would have had no place to stay on New Years. Luckily, we had a wheelchair accessible shower – that happens to me much more in developing countries rather than in the USA.
The next 3 shots must be viewed (virtually) as one.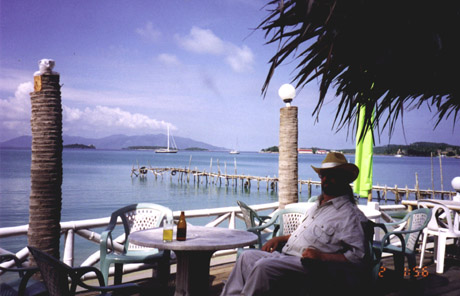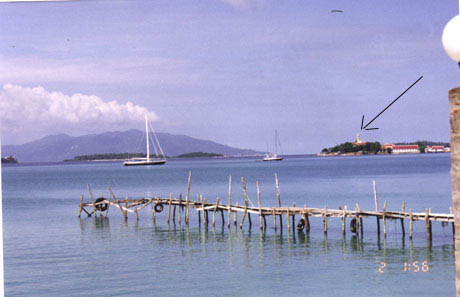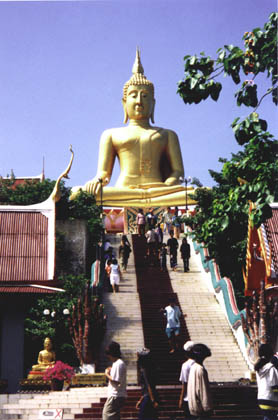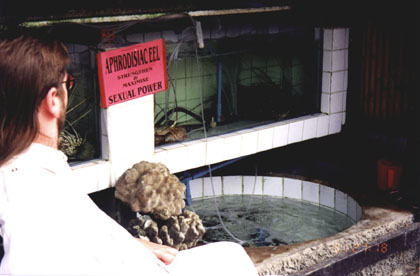 The hotel's restaurant had many tanks filled with different types of sealife to eat.
This particular display had aphrodisiac eel for sexual power. I didn't want to think about it though – I would have needed it if I married Jessica Alba, but she refused to sign the pre-nuptial agreement.