Rio de Janeiro
---
December 2014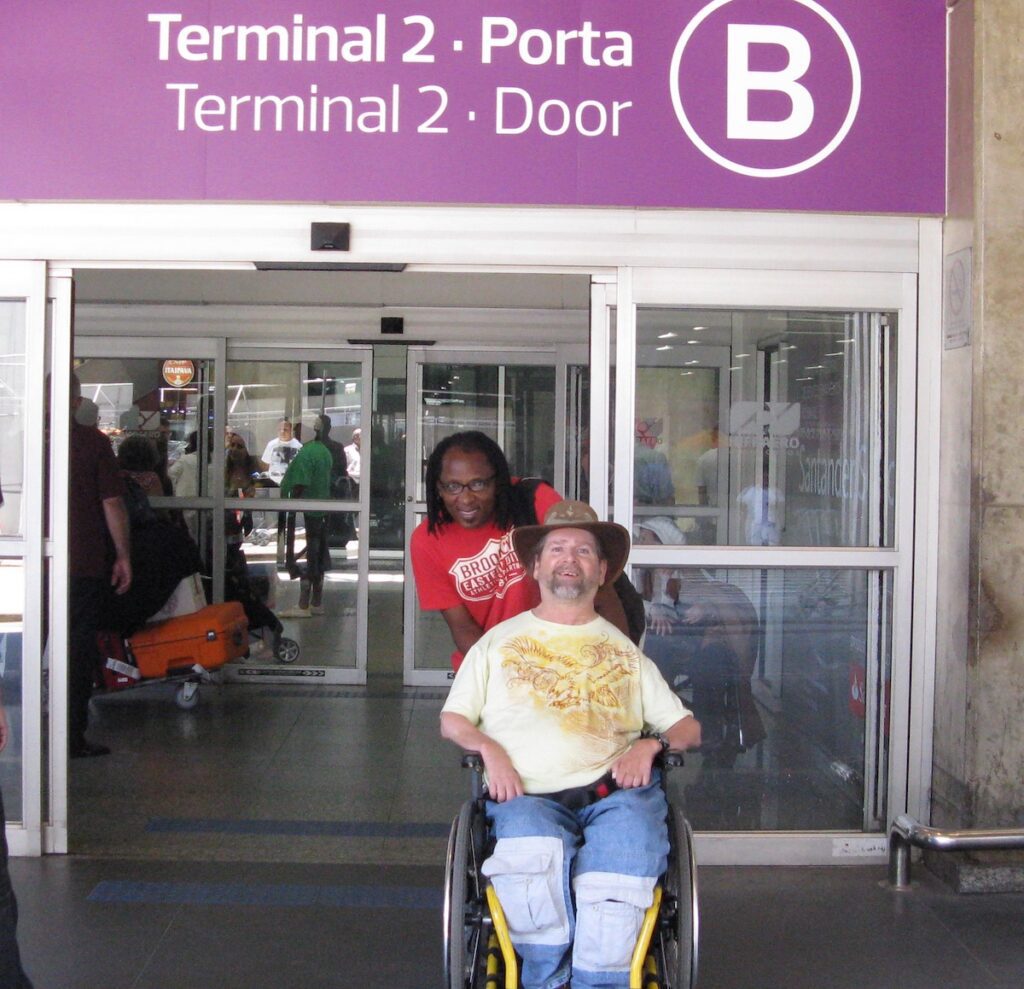 Once we got to the airport in Rio de Janeiro we changed some US currency for Brazilian Reals, then scheduled a taxi. While at the airport I was shocked to find my friend Antonio, waiting for us. I met Antonio in Austin. He was a cab driver and I engaged his services on many occasions. While planning my trip to Rio I pumped Antonio, who I knew grew up in Brazil, for info. He told me he was actually going to be in Brazil the same time I was. He suggested he could meet me at the airport. I Agreed to his suggestion but didn't really think anything would come of it. I was indeed surprised to actually see him there
We got settled into our hotel, the Ibis Rio de Janeiro Botafogo and began exploring the neighborhood. It was quite urban, with heavy traffic. The following day, we went to Sugarloaf Mountain. In Portuguese it is known as Pão de Açúcar. It's a monolithic granite mountain that rises 1,299 ft above the harbor.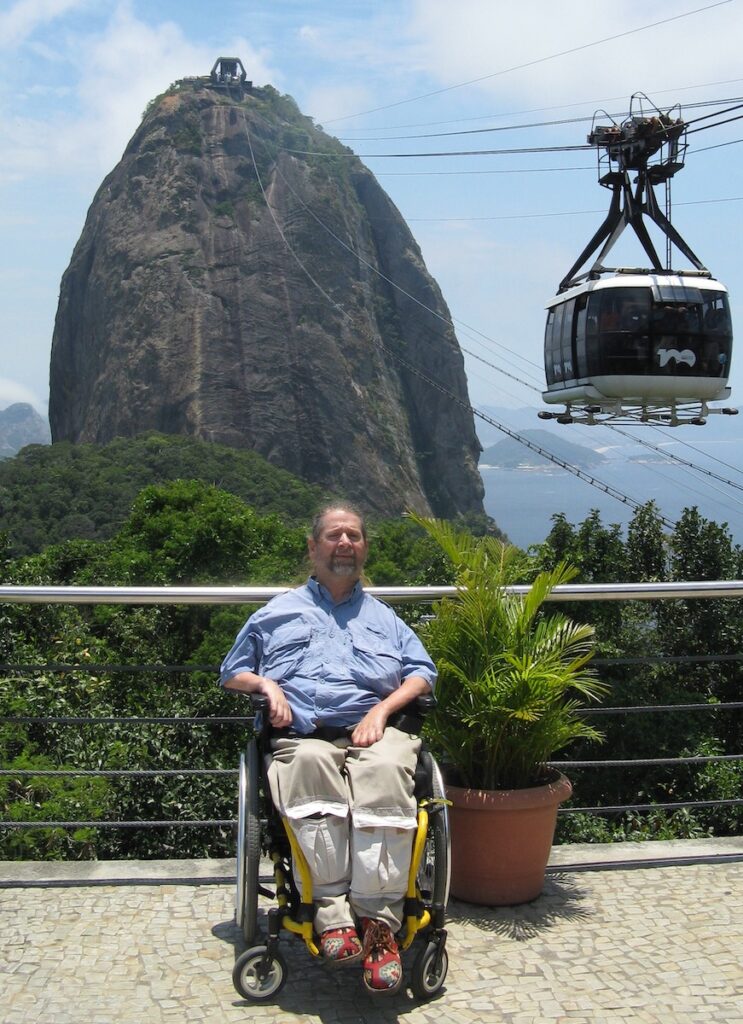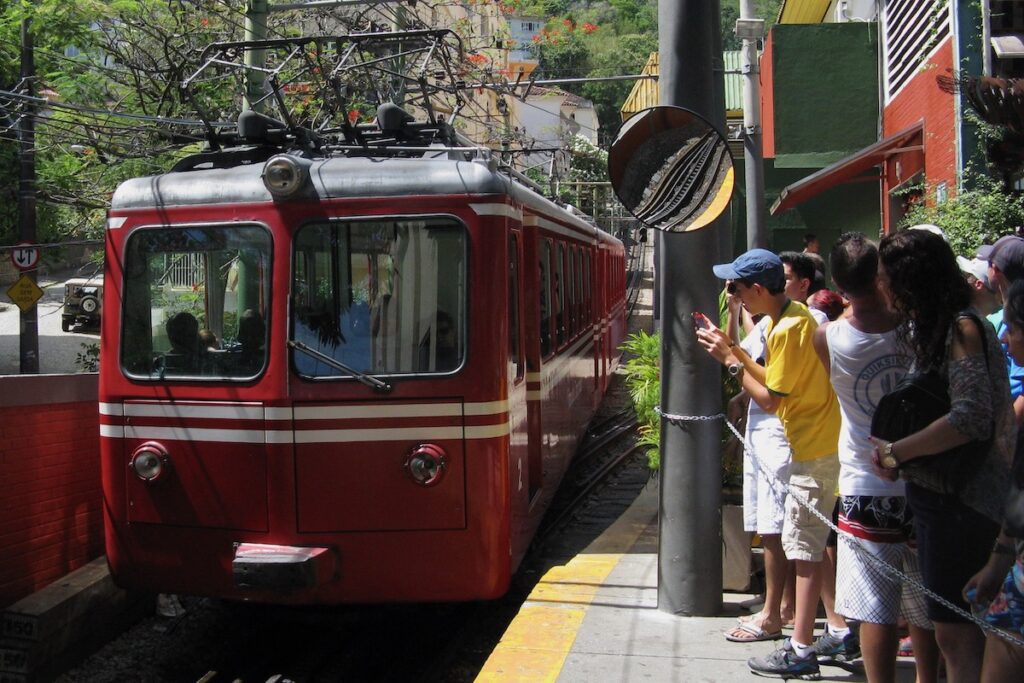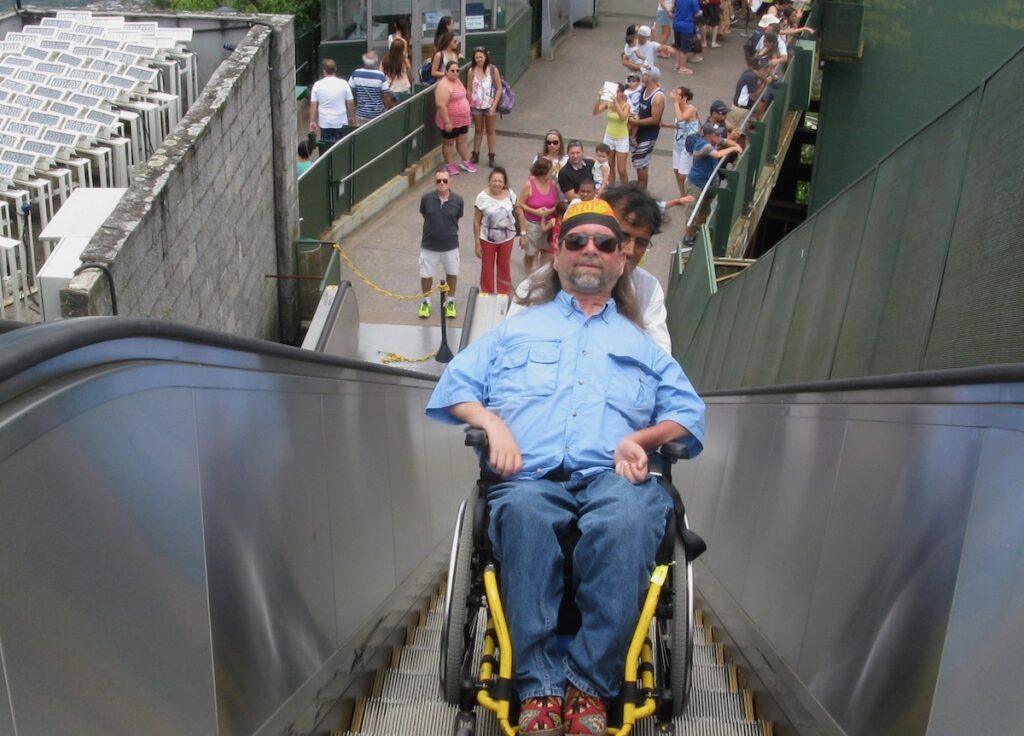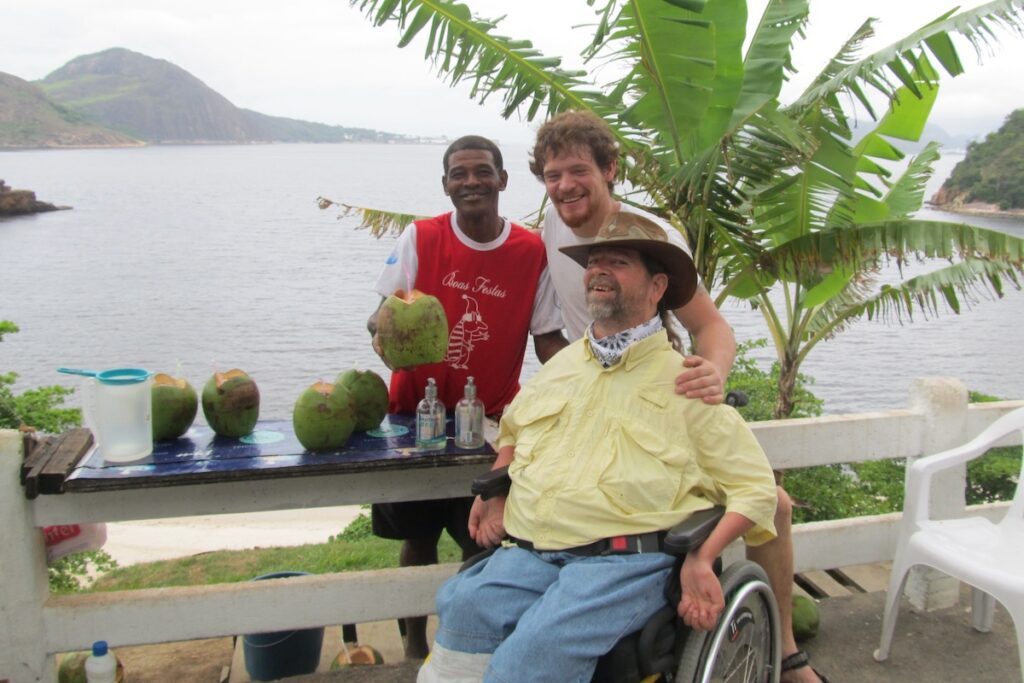 One elevator was not working so we had to use the escalator. I wanted Isaac behind me but the local guard insisted on taking me up to the top. I'm hesitant about letting locals manipulate my chair but everything worked out well. The trek was really worth it. The view was amazing.
The food in Rio is fantastic. One of the more common foods you'll find in just about every little kiosk is açaí (juice made from an Amazonian berry). It could be consumed like yogurt with a spoon or you could drink it like a very thick milkshake. We also had to go to several Brazilian steakhouses. They serve several cuts of meat and every one of them was delicious. Luciano, a clerk from Hotel 1900, told us about a steakhouse, Carretão, located near Copacabana and Ipanema beaches. We went with the all you can eat plan, but they also had a menu including items such as Titty tat and Diaper. Obviously very poor Portuguese /English translations. The coastal roads are closed to car traffic on weekends so after dinner at Carretão, we just walked a block from the restaurant to the beach. This traffic management is a great idea.
We also saw a Subway sandwich restaurant. On their menu they have a different sandwich for each day the week. They translated Friday to Sex.
Antonio, the taxi driver from Austin whom told you about earlier, told us about this Japanese restaurant only 50 feet from our hotel. We tried it. It was some of the best sushi I've ever had.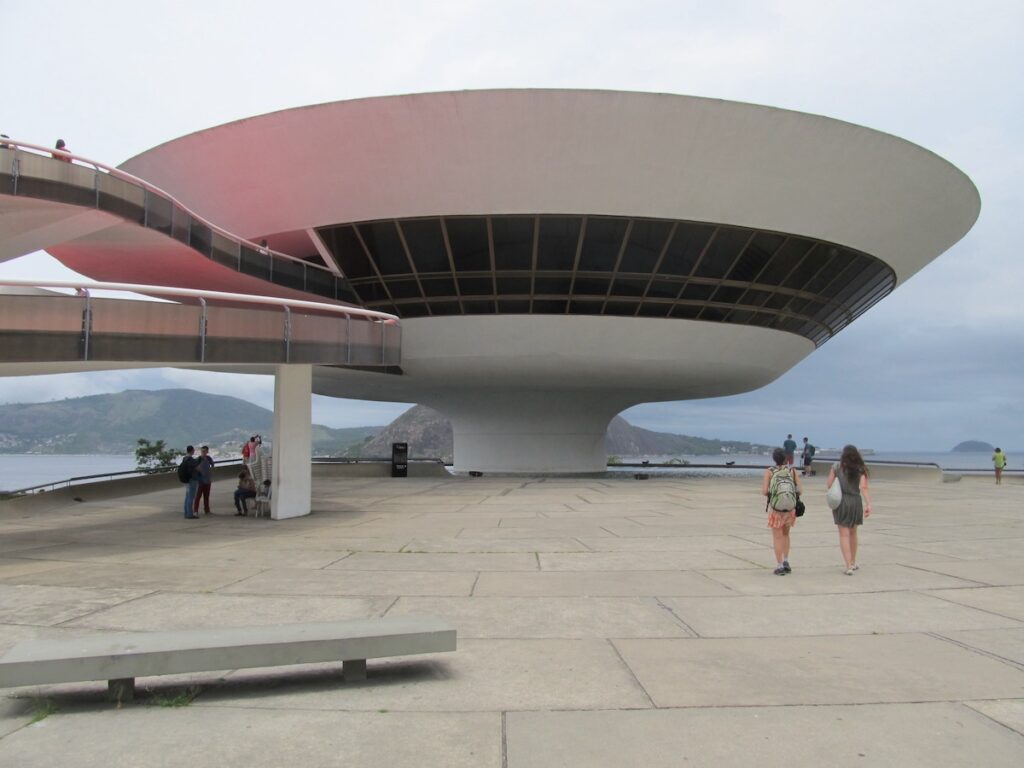 He also told us we could take a ferry across the bay to Niterói. While we're there we should go to the Niterói Contemporary Art Museum. It was fun to be on the ferry boat. As we walked along the road to get to the museum we met this coconut water vendor. He only spoke Portuguese. Using hand gestures, we indicated we wanted the cold coconut juice and that it did not need to be in the coconut itself. After we bought the juice he said, "Thank you." I started laughing. He did speak English after all but he was just giving us the tourism treatment.
People describe the outside of this museum as looking like a spaceship. Indeed, it is very futuristic design. I'm not much of a fan of modern art but it is worth taking a ferry from Estacao das Barcas to see it. The Museum rotates the art exhibits every several months or so. The exhibit we went to was less than impressive. The site of the museum is great, on top of a hill in Niteroi with scenic views of Rio de Janeiro and Guanabara Bay.
One of our day trips included Jardim Botânico. These gardens are an oasis of tranquility in an ocean of a densely populated city. We just strolled around the gardens enjoying the huge variety of plants and trees.
After two nights at the Ibis, we went on to Hotel 1900. Wow, what a great hotel. The staff quickly came to know us by name. They were very friendly and always ready to print up a map of nearby attractions. The room was pretty small but the bathroom was huge and the shower spray was so strong it could exfoliate rhino skin.
Two days before leaving Rio, I told Isaac, "I know there is a paragliding place somewhere around here. I want you to find it. Tell 'em I'm in a wheelchair, make reservations for us to go flying, and don't take no for an answer." Isaac is very sharp and thrived on difficult tasks. Somehow, hours later, he accomplished his mission. We were both stoked. Early the next morning, a driver came in a jeep pick up. He didn't speak English, but our hotel manager got us sorted out. An hour later, I could smell the difference in the air, and feel the change in weather. Isaac transferred me from the jeep to my chair, and we were guided by our driver to what can best be described as a mini-airport for paragliders and hang-gliders. We were seated in what appeared to me to be large ballpark bleacher section, for soon to be flyers.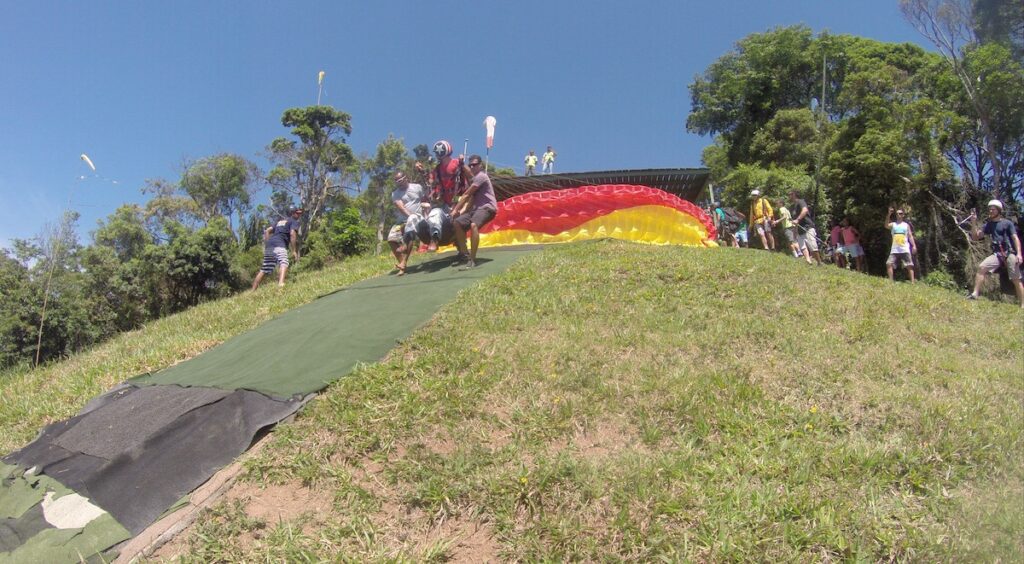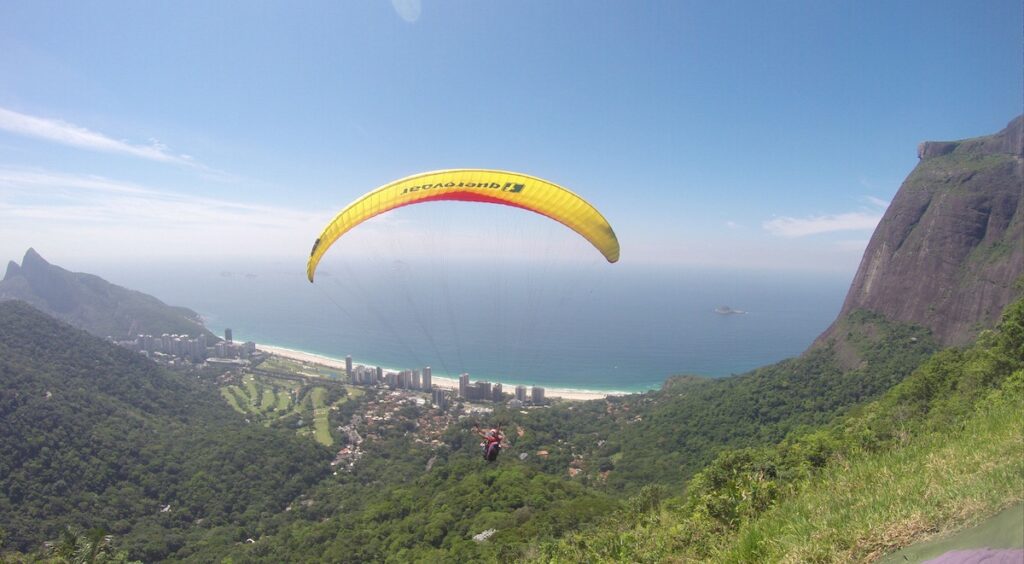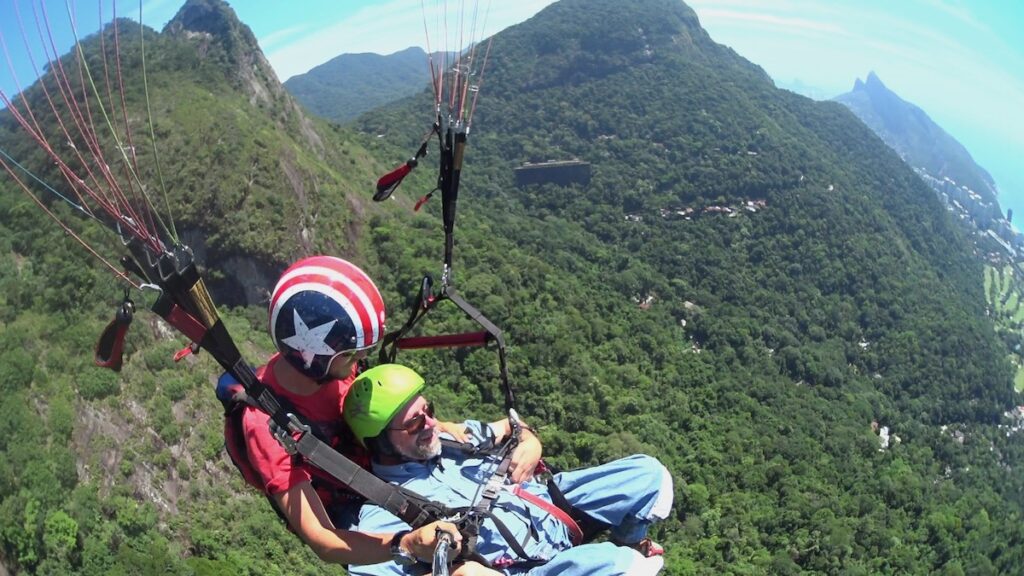 Paragliding company De Voo Livre which roughly translates to "free flight"