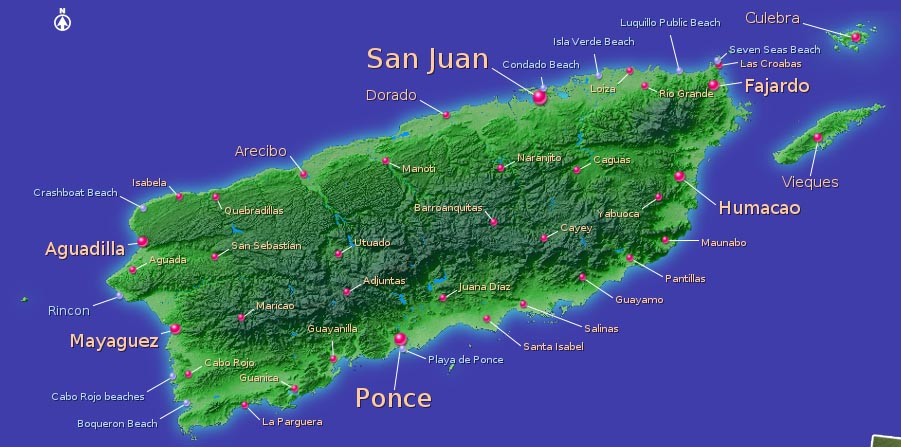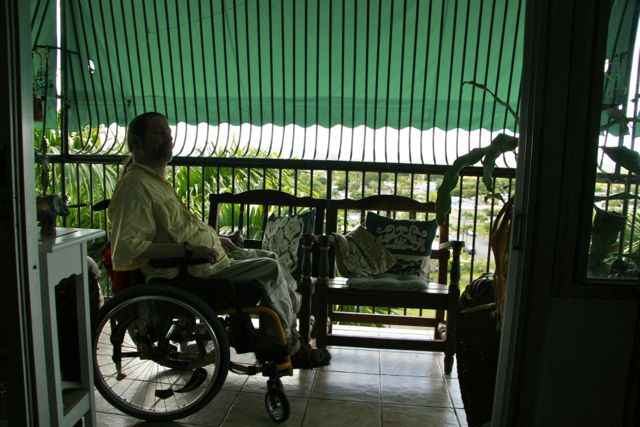 I convinced my traveling buddy, Brian, to leave the winter climes of Cleveland and join me in PR for a little R&R (Rest and Rum). We flew into San Juan, caught a shuttle to Dollar Rent-a-car, and drove 7 minutes to our first accommodation. Brian pre-programmed his Garmin and installed it in our Kia mini-van rental. Road signs are conspicuously absent in Puerto Rico. We would have really been lost without it. We used AirBnB.com and www.topuertorico.org extensively to find accommodations. Brian found Vito's place on AirBnB.com, a great find at $65/night. Our flight was delayed so we didn't get in till about 2am. Vito's (AKA Victor's) girlfriend Linda was gracious enough to let us in. It was so relaxing sitting on his balcony, enjoying the breeze and singing birds.
Castillo de San Cristóbal
Our first tourist foray was the gigantic fortress of Castillo de San Cristóbal, with its 140ft-high ramparts. Built in the 1500's, this man-made monolith offered extraordinary views. Unfortunately, the elevator wasn't working so Brian had to haul me up the ramps.
From the top of the fort, one can see cruise ships in the San Juan port. When we were done enjoying the many views we found a tunnel to take us to the parking lot. The fort was riddled with tunnels through which troops and supplies were transported. The tunnel we found had about 6 steps at the bottom, an inconvenience but not a deal breaker.
The tour of the forts built our appetite for the island's comida criolla (traditional Puerto Rican cuisine). While roaming Old San Juan we found Restaurante El Jibarito. The food was great and Sangria even better. Afterwards, we went to Castillo San Felipe del Morro but it was about to close.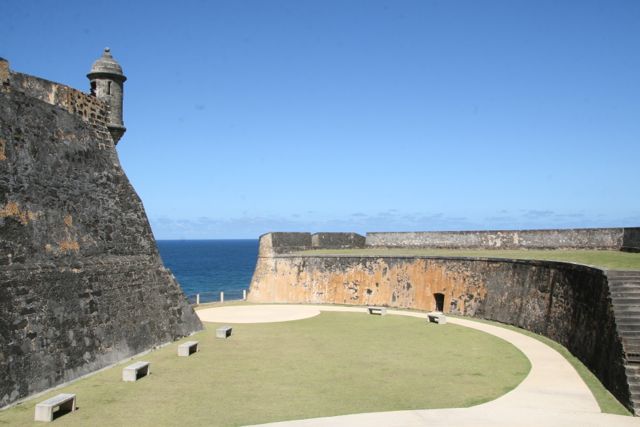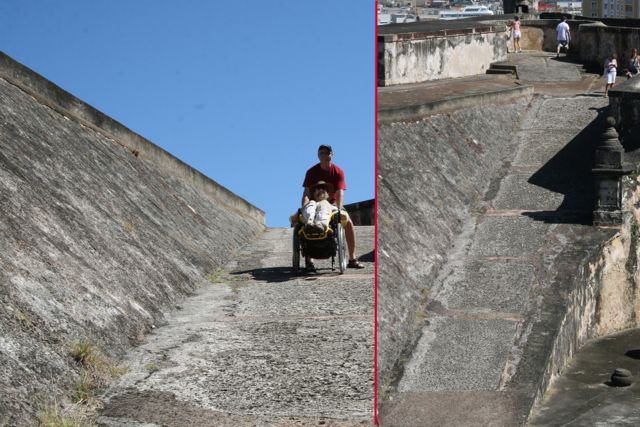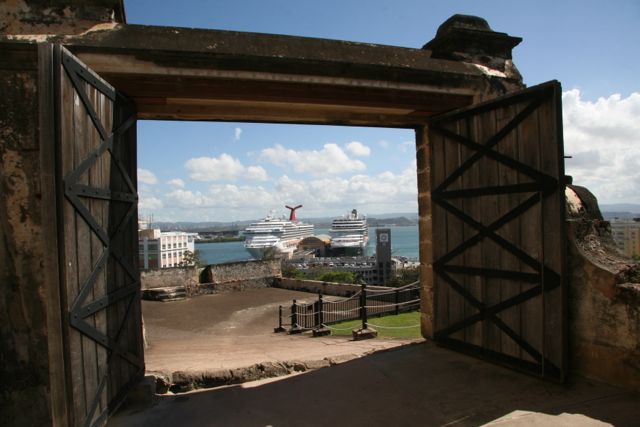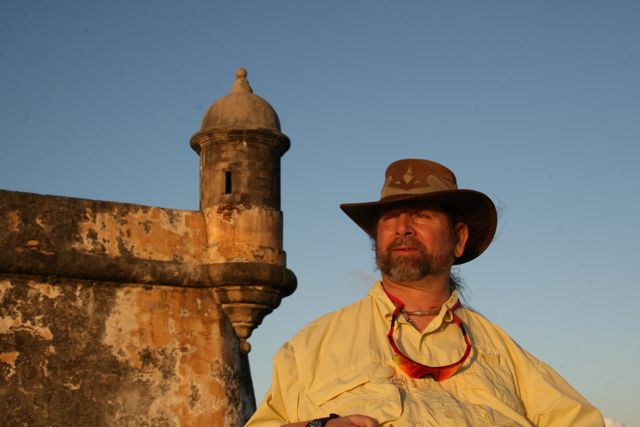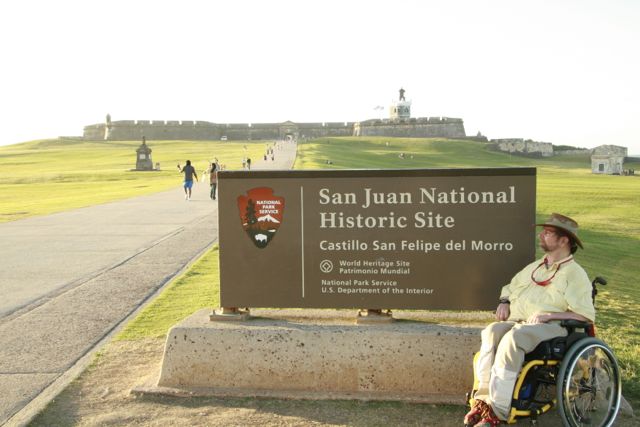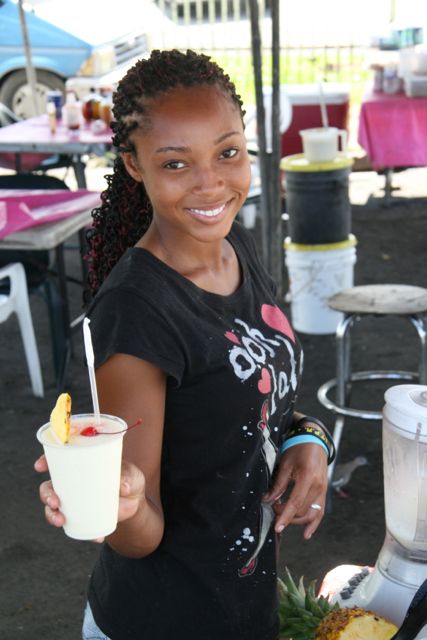 On the road out of San Juan we found numerous roadside stands selling all kinds of culinary delicacies. I found it amusing that this young lady had to start a generator to run a blender to make me a Piña Colada.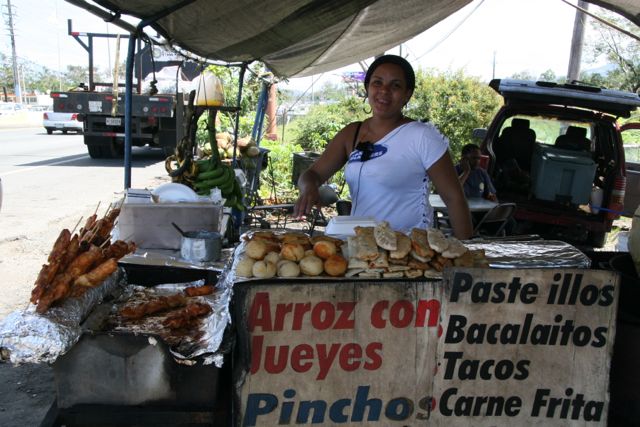 Albondigón – Puerto Rican meatloaf.
Alcapurrias – made from a mixture of mainly yautía and may contain ground squash, plantains, green banana and other starchy tropical tubers filled with ground meat or seafood and deep fried in oil.
Almojábanas – cheese-flavored rice fritters.
Arañitas – a combination of fried ripe and unripe shredded plantain, seasoned with salt, garlic and spices. Squash and other tubers can also be added.
Arepas / Domplines – Puerto Rican dumplings; fried rounds of flour-based dough. Sometimes they can contain coconut (known as arepas de coco). They are sometimes stuffed with seafood. This dish is particular to the Eastern and Southern parts of Puerto Rico.
Arroz con habichuelas – Rice and beans, a staple. Pink and red beans are the most common. The beans are cooked together with recaito base, stock, chunks of ham, potatoes and/or calabaza (tropical pumpkin), alcaparrado, tomato sauce to thicken stew, and flavored with spices. When done, the beans are then ladled over a mound of rice.
Cuajitos en salsa (Buche) – Puerto Rican dish made with pork belly in a red hot sauce
Empanadas – Breaded steak (beef / turkey / chicken / veal)
Empanadillas de carne / mariscos / queso / guava – Meat, seafood, cheese, or fruit turnovers, usually called empanadas in other Spanish-speaking countries. On the eastern side of the island, empanadillas are known as pastelillos, although pastelillo also refers to a pastry turnover.
Jibarito – Plantain sandwich (traditionally made with steak or pork).
Mofongo – a popular dish made from fried green plantains or fried yuca, seasoned with garlic, olive oil and pork cracklings, then mashed. Mofongo is usually served with a fried meat and a chicken broth soup.
Trifongo – similar to mofongo, but made with fried cassava, green plantains, and ripe plantains.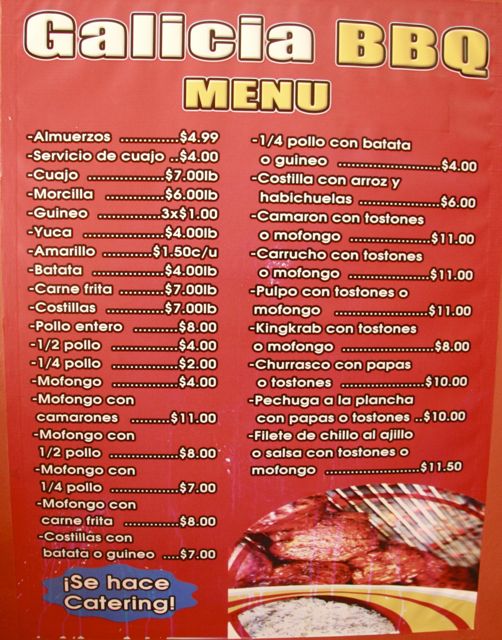 El Yunque
---
El Yunque is the only rain forest in the US Parks system. Unfortunately, there are no wheelchair accessible trails in the park. One of the park employees gave us a map of accessible trails. Apparently, steps are considered accessible.
Dilka, a friend of Victor, is an expert on wheelchair access in Puerto Rico. Dilka knew about everything, everywhere, and everybody. Well, almost everybody. In the days Dilka was with us I found her to have a tremendous amount of energy, and a great passion for life. She is an athlete (basketball, tennis, marathon), photo journalist, is the most beautiful woman in Puerto Rico, very charming and is the unofficial ambassador to Puerto Rico. We were lucky to meet her.
One of PR's many attractions is Guavate, Cayey, a virtual cornucopia of PR traditional cuisine, the island's ultimate culinary 'delicacy,' lechón asado, or whole roast pig, locally reared and turning on a spit. We asked Dilka to go with us and she said sure. A myriad of lechoneras pepper the Guavate roadside. We couldn't resist the arroz con grandules (rice and pigeon peas), pasteles (mashed plantain and pork) and morcillas (rice and pigs blood). I liked the ribs or, as I called them, pork-sicles.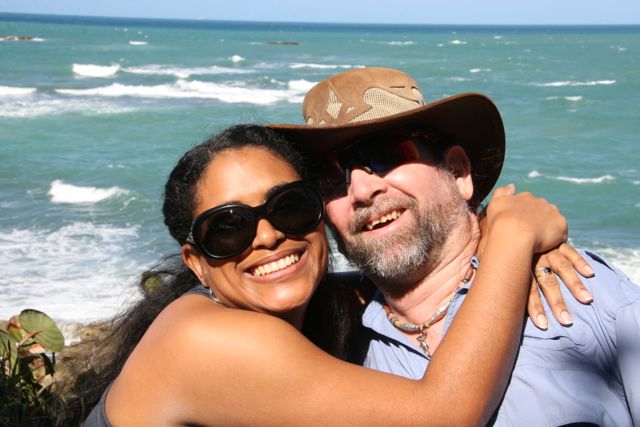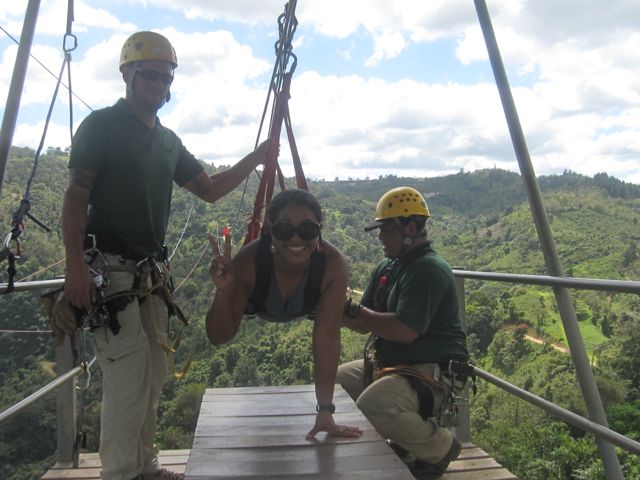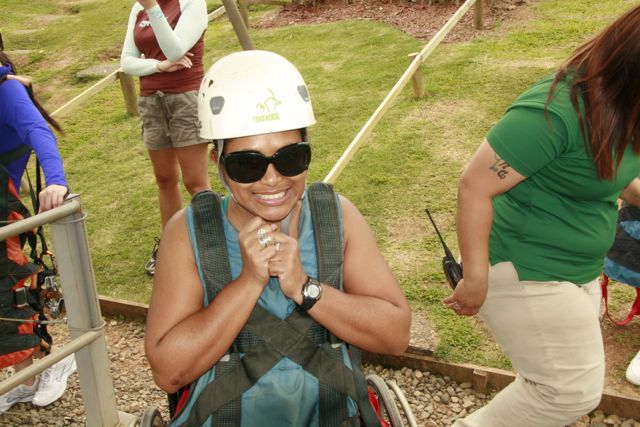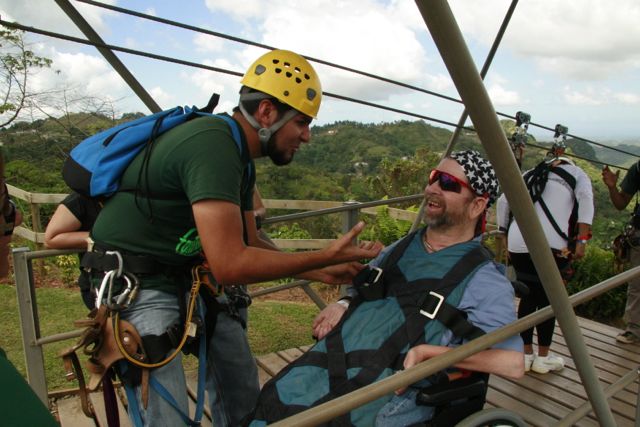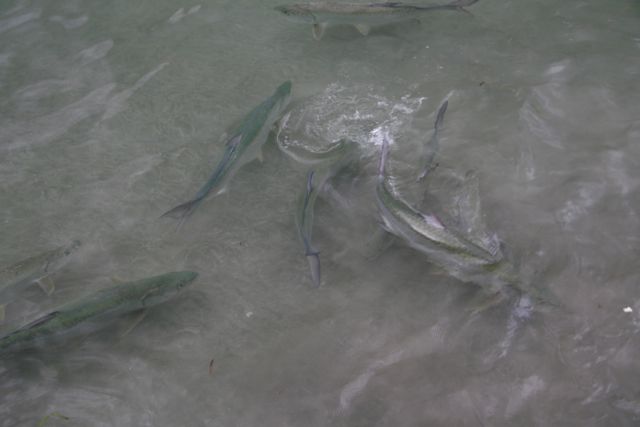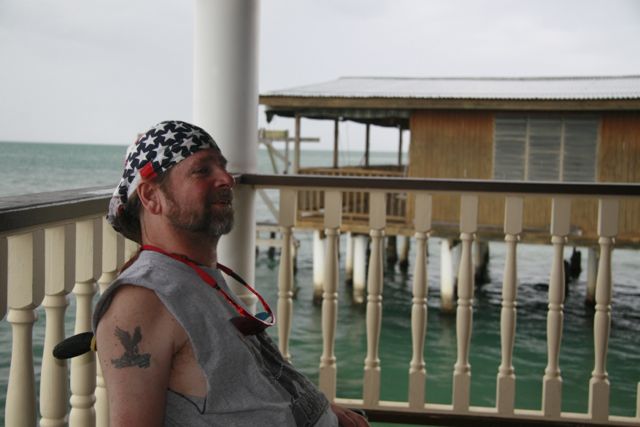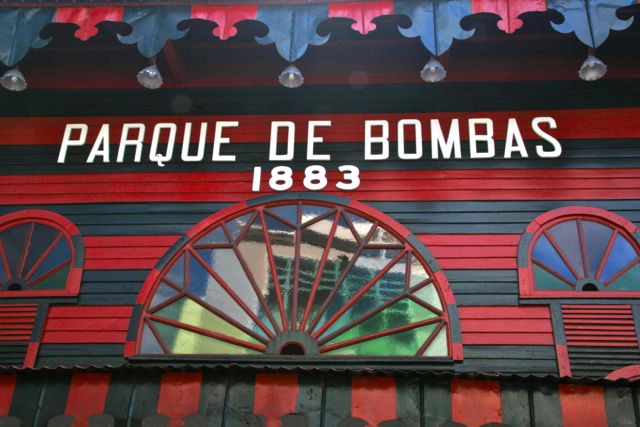 LECHÓN LINGUISTICS
» Cuerito – Smoky, crispy pig skin
» Cuchifrito – Deep-fried pork delicacies, including ears and tails
» Morcillas – Dark pork and rice stuffed blood sausage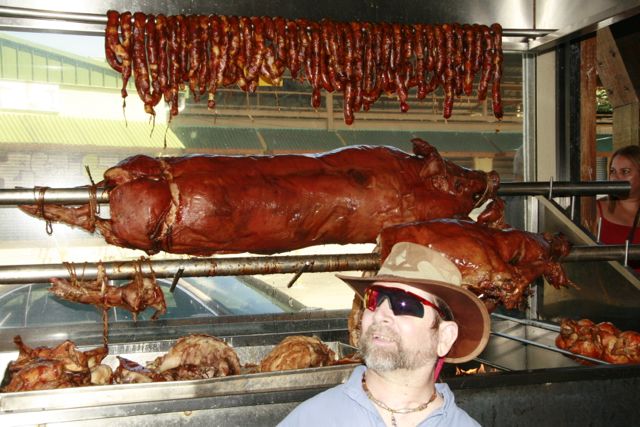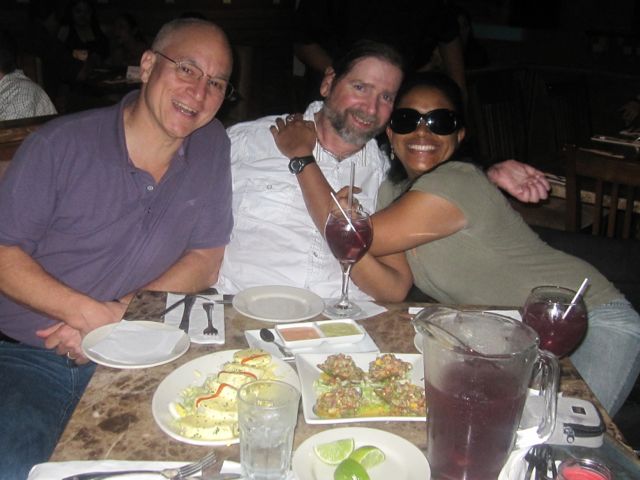 Ceviche Place 
Dilka learned I like ceviche so she suggested we dine at Ceviche Place in San Juan. We started with an order of mussels and papas huancainas, pictured below. I then had the mixed seafood ceviche, which was excellent. Dilka ordered some Sangria. Before long, Dilka had me singing karaoke with her.
Piñones, Loiza 
We did a lot of research before leaving the States but it wasn't till we got to PR that Brian found, via Lonely Planet travel books, an accessible boardwalk in Pinones, Loiza. Once again, we enlisted Dilka's help. We would have never found that place without Dilka. It was a great accessible place to enjoy sun and surf.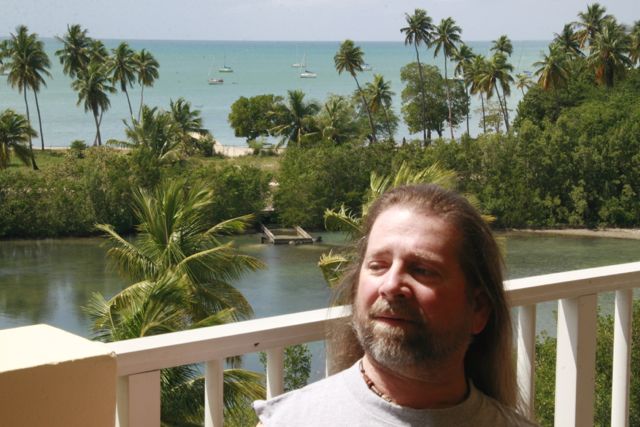 TORO VERDE NATURE ADVENTURE PARK 
Before leaving Austin, I had done some research on a place called Toro Verde, Orocovis http://www.toroverdepr.com I tried to find out, via email, if someone in a wheelchair could use their zip-line. They gave me their phone number and wrote me that there was about 100 steps there. I had real doubts about this place but Dilka offered to guide us there so we decided to try it. The people at Toro Verde were very helpful and friendly and actually got us within 25 feet of the take-off platforms.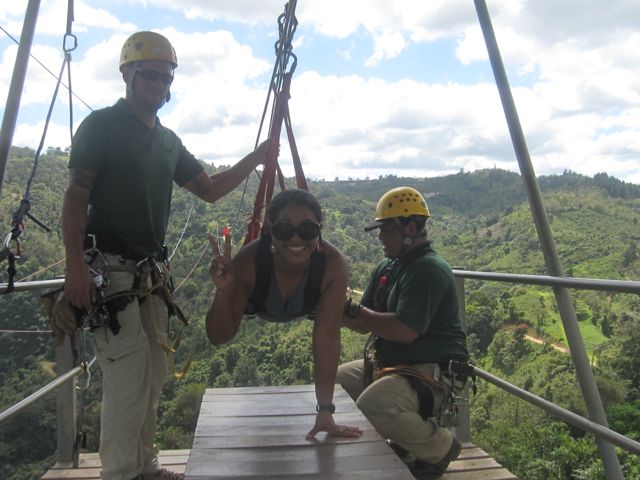 We were each put into a harness then attached to the zip-line. Unfortunately for me, the harness was pressing on my windpipe. We made several adjustments to no avail. I had trouble breathing while in the harness so decided not to do it. Dilka, however, had no problem. She took a flight on 'La Bestia,' the 4700-foot long zip-line is among the longest zip-lines in the world. It's over in two minutes.
Casa Bavaria, Orocovis
After leaving Toro Verde, we stopped at a German Puerto Rican restaurant, Casa Bavaria. Dilka knew which were the best beers. The appetizers and entrees were great. The view was stunning.
Boqueron
Before leaving the States I booked a hotel in Boqueron. I requested, and was told that I would get, a wheelchair accessible room. Upon arriving at the hotel I was told the accessible rooms are $95/night more expensive. Who would have thought that Access would come at a price? The views from the hotel, as everywhere in Puerto Rico, were stunning.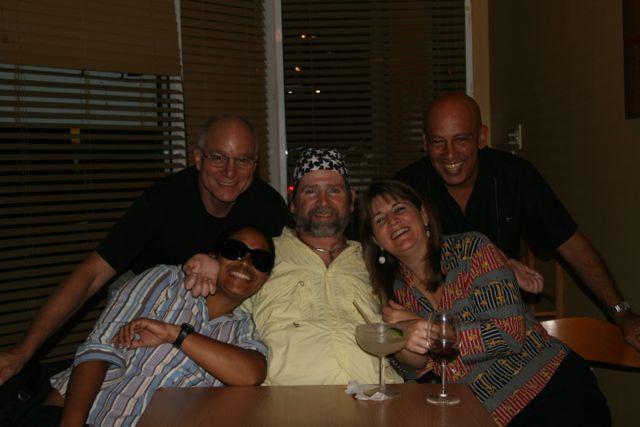 El Bohio restaurant
Our Lonely Planet guidebook suggested having lunch at El Bohio restaurant in Cabo Rojo, near Boqueron. We ate lunch on a platform perched over the ocean from which we could see 6 foot tarpon that gobbled up any table scraps people had. The food was so good we had no scraps.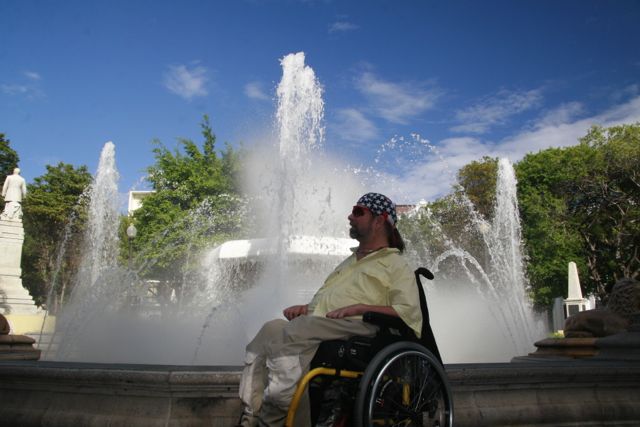 Ponce
The the Plaza Las Delicias in Ponce, home to the eclectic Parque de Bombas firestation, is packed with statues, lined by colonial edifices and crowned by the regal Fuente de los Leones. It is an example of colonial grandeur. While having lunch at Café Café, Brian asked about the coffee. That lead to our introduction to Louise who owns the adjoining coffee store. Louise explained how the coffee beans he sold tasted better because they were mountain grown, hand processed, then roasted 10 pounds at a time. Louise, by the way, is the only person in the world to recognize my shoes were made in Turkey. He bought a similar pair of foot ware when he was there purchasing his coffee roaster.
Everyone we met was very friendly. When we got out of the car in Ponce, we enlisted the help of a stranger (Andy) to put my wheelchair cushion in our chair while Brian lifted me. At the end of the day we were looking for assistance again. As if by magic, Andy appeared again and knew exactly what to do.
Sporty's
Our last night in PR we dined at Sporty's. Dilka said they have the best traditional PR cuisine. We asked our AirBnB host Victor and his girlfriend, Linda, to join us. Of course, as everywhere, Dilka knew the owner.