Travel and adventure is a way of life for me. I'm like the men in British author and historian Robert Service's poem, "The Men That Don't Fit In." I don't like the things that are; I want the strange and new. I've traveled more than most people would ever imagine possible. Being in a foreign land, unfamiliar with language and culture, confronting extreme elements, is just my cup of tea.
So, when Joanna, a fellow scuba diver, alerted me that the Coalition of Texans with Disabilities was looking for ten people with disabilities to participate in an expedition to Mount Everest, I knew immediately how to respond. When Team Everest '03 expedition was announced, my participation was a "no brainer", a foregone conclusion except when it came to the practical realities. Finding a way to come up with $18,300 was going to be difficult and the health risks would be formidable, but the lure of adventure won out and I submitted my application.
CTD timed this event to co-inside with the 50th anniversary of the first summit of Mt. Everest by Sir Edmund Hillary and Tenzing Norgay. By sending a Challenge Trek Team, composed of 12 people with disabilities, CTD was sending a message to the world that being disabled doesn't mean being unable. CTD was challenging the way people with disabilities are perceived. Dennis practiced what American architect and urban planner, Daniel Burnham preached. "Make no little plans; they have no magic to stir men's blood and probably themselves will not be realized."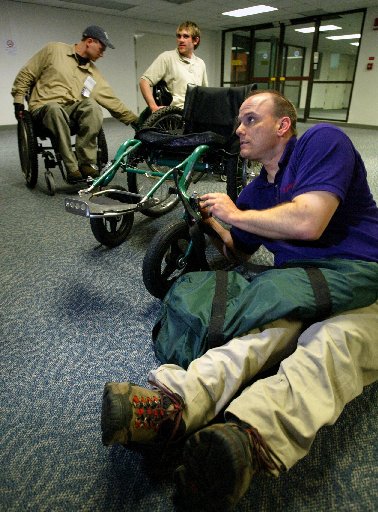 There were several events in Austin where trekking applicants got together to meet each other and speak with the press. Getting to know my teammates was essential. When I travel, especially internationally, it is always with people who I know and trust. But, I didn't know any of these people. It made me uncomfortable to plan a major trip with people I don't know. My years of travel experience made me confident that they could depend on me, but could I depend on them? Traveling independently, I could engage in activities that may border on, or perhaps cross, the boundaries of the law or ethics or simply decorum. As a Team member, I have to behave in a manner that best serves the Team. I also take care of my equipment and myself so that I would continue to be an active team member and would not slow our progress.


The days following our initial get together events were filled with planning. There is a story that Abraham Lincoln once said, "Give me six hours to chop down a tree and I will spend the first four sharpening the axe. The moral of the story is that preparation is key to success. Every aspect had to be considered including health, attendants, travel and weather. I planned on acquiring the likely antibiotics, warm winter clothes, and any other equipment and supplies to suit the demands of our destination.

The figure $18,300, the minimum amount required by CTD for my attendants and me to make this trip, loomed ominously on my radar. Perhaps I could look at this financial obligation as an opportunity. A group of people with disabilities, this size, had never been to Mount Everest base camp before. Base camp is where a group of people set up their base of operations including communications and other expedition preparations. It's the end of the trail for most trekkers. The only people that venture beyond base camp plan on summiting Everest.

I started asking around and was referred to a publisher in New York. I thought that if I could get a publisher to give me an advance payment towards a book, which would help me meet my financial obligation to CTD. After looking at templates for book proposals, I finally put one together. It seemed like writing a proposal would be at least as hard as writing the book. Nonetheless I submitted my proposal to a publisher in New York. I eventually was able to speak with her by phone. Her opinion was that I should get back with her after the expedition. She wanted to see what drama had developed on the expedition. Well, that was fine for her but I needed to come up with $18,300 and I was looking at a deadline before the actual departure date of the expedition.

In addition to money, I had to find two attendants. Finding a good attendant is never an easy task. Since I'm almost totally paralyzed, they would have to provide for all of my care including basic hygiene, bathing and dressing. They would have to be able to transfer me from my bed to my wheelchair or perhaps from bed to shower, to roll me around wherever we're at, up-and- down curbs and steps and over any other obstacles we find. They would also have to have some sort of mechanical wherewithal because I'm using a wheelchair that might need to be repaired. My needs are basic but my attendants would have to be responsible; they have to be available when I need them.

At this point in my life I had traveled in more than 35 countries and I knew from experience that I had to have at least two attendants. If one attendant got sick or injured, the other attendant could perform the necessary duties. The mountainous setting, high altitude, cold weather, in a lesser-developed country, would be challenging enough that I shouldn't rely on only one attendant. In any travel scenario it is helpful to have an extra set of eyes and hands. I had to have at least two attendants, but who?

My thoughts drifted back to New Mexico. I taught special education at the University of New Mexico in Silver City one summer. I had an attendant there named José. He was a great attendant and very capable of doing just about anything. José was on the backside of 30 and had the build of a climber. I suspected he had great endurance. I recall that he loved the mountains. He wasn't obviously muscle bound but I do recall watching him work and observing the strong muscle definition he had. He fixed the plumbing in my bathroom and my electric wheelchair with equal ease. I called José with a proposition.
"I can pay for most of this trip but I need you to pay at least part of it," I said. This would show his level of commitment. If he didn't raise the money by a certain deadline, I had given him, I would have to decide whether to pay the balance or find another attendant. Finding another attendant would be extremely difficult. Who has the ability to take a month off of work to go trekking in the mountains? José responded well to my proposition. He was anxious to go and assured me he would raise his part of the money.
It turns out I didn't have to look for a second attendant, he found me. My brother Robert called me and said if I was crazy enough to go, he would have to go with me. Robert sold computer supplies and was doing well enough he could take a month off of work. His passion was music. He was a great guitarist and a driving force for his band. Robert was always a happy go lucky guy and was a bit of jokester. He traveled with me before to Australia and New Zealand and I was happy to have his company once more. I also told Robert he would have to come up with a small level of cash to demonstrate his commitment to this expedition. He too assured me he would do it.

The reality of this expedition was striking me hard. Let's suppose I did end up in Nepal, how would I travel up the mountain? That was something yet to be determined. I knew the CTD director Dennis Borel was having a conversation about that with our co-expedition leader, Gary. They were considering several options. I felt compelled to be involved in this process. Almost 10 years previous I had visited my friend Bruce in Nepal. We trekked the Annapurna circuit using dokos. The doko is a wicker basket that Sherpa constructed to carry children or supplies. People often think of Sherpa as porters in the mountains. Actually, Sherpa is an ethnic term. All Sherpa come from the same part of Nepal. Almost all Sherpa share the same last name – Sherpa.

The Sherpa constructed dokos right on the spot whenever they're needed. The Sherpa grab some bamboo and weave the basket shaped doko. When the trip is over, the doko is usually disassembled and repurposed or discarded. Each doko was very lightweight and had only one strap attached to it. Sherpa carry the doko on their back with the strap over their forehead. That single strap, resting on the Sherpa's forehead, supports the entire weight of the doko and its contents. The Sherpa must have very strong necks to carry these loads. It is not uncommon for them to carry over 200 pounds.

My friend Bill, also a quadriplegic, and I were carried in dokos when we went to Nepal. We were each carried in separate dokos while our wheelchairs were also carried in separate dokos by other Sherpa. Bill and I each hired three Sherpa to take turns carrying us. They took turns switching off about every 15 to 20 minutes. At any given moment one would carry me in a doko, another Sherpa carried my wheelchair in a Doko, and the third Sherpa rested and kept watch as we trekked along the trail. An expedition over rockier, and at times slippery, terrain at higher and colder altitudes required greater demands on the Sherpa. Perhaps we might need four Sherpa each.

I was confident Dennis could make the expedition come to fruition. I had worked with him before and was impressed with his talent and drive. Gary, however, was unknown to me. He was adventurous though and that made him a kindred spirit. He lost his left arm in a climbing accident. As a disabled climber he was a natural candidate for our expedition leader. Unfortunately, like me, he became disabled as a result of an accident. A good leader should be able to avoid accidents. Gary's real mission was to summit Everest. Leading this expedition was one way of getting to the top. Actually, we had two co-leaders, both named Gary.

I assumed that everyone that signed up for this expedition would have a lot of travel experience. I was surprised to find that wasn't the case at all. In fact, it wasn't till we actually got situated in Nepal that I learned a lot of my fellow trekkers had no experience in this type of activity. In all, there were about 10 of us with disabilities, four of us wheelchair users. Most of us were from Texas with a few others from out of state. We didn't all meet face to face until we met at the Austin airport. It wasn't easy to socialize on the airplane, so we didn't actually start to get to know each other till we got to the hotel at Kathmandu in Nepal.

The plane ride itself was our first test of endurance. We left Austin on our 36-hour flight via L.A, Taipei, and Bangkok, to our ultimate destination Kathmandu, Nepal (elevation 4,264ft). I think everyone was feeling very tired of just traveling by air.

Travel also took a toll on our equipment. Mark, a paraplegic due to spina bifida, was having problems with his rented wheelchair. He found this chair, at the University of New Hampshire, by doing a web search. This was his first time using this off-road wheelchair.
Only 3 days before the expedition began, a refrigerator-sized box appeared at the doorstep of his girlfriend, who lived in Austin. They unpacked the box and inside was a heavy, green wheelchair with knobby monster sized rear tires and slightly wobbly front tires.
Mark's girlfriend observed, "You know, honey, my dad's an engineer and I know a thing or two about mechanical things, and these front tires don't look very stable."

Mark was quick to retort, "Nah, they're fine. I mean, look at the back tires!"
Affirming her observation, Mark's girlfriend replied, "You should really consider just taking your own chair. I don't feel good about this."
Just 3 days later, Mark was at the Austin airport heading to Nepal in this wobbly display of manly muscle chair that did everything except work.
The first problem happened when we landed in Los Angeles for the first leg of the trip. The front forks seemed only loosely connected to the front wheel, a broken tendon that caused Mark to have to pop a wheelie to propel forward. He exerted a great deal of energy just to move forward on level ground. Eventually, he hopped on a luggage carrier in LA and was pushed around the airport like a piece of luggage. He hoped things would magically improve in Bangkok, our next stop.

When I first saw this sturdily constructed wheelchair, I was jealous that I didn't have one. However, watching Mark struggle, and knowing the challenge ahead of us, I was satisfied that I was using my well-used and proven chair. Mark was from North Carolina and hadn't been with us on pre- Everest events so this was my first interaction with him. I respected the manner in which he embraced the situation. Mark was resourceful. He used his charisma to charm to engage maintenance staff at each airport. They tried to help but were out of their element. Even though they had no experience with such a contraption, the hope was that their experience and expertise were transferrable to this new situation. Their ability to make high strength custom parts, however, was decidedly limited.

When we got to Bangkok, Mark summoned an aircraft mechanic, who despite speaking no English was able to devise ingenious ways to temporarily fix the problem. With admirable concentration and the kind of mechanical improvisation we would find repeatedly in this resource poor part of the world, he fashioned a makeshift metal brace that kept the front fork and wheel wedded together for several days.

When we reached Kathmandu, Mark renewed his quest in earnest. He was as keen on fixing his chair as an Olympic athlete would be to heal an injured leg. Mark accepted the outcome of each new attempt with dignity. Rather than display his frustration, he maintained his optimistic demeanor with a smile, holding his head high as if he could see a solution on the horizon. He always respected and thanked the folks that tried to help him. He shook their hands as he looked them in the eyes and even gave one a pat on the back. He knew there was a solution somewhere but a replacement part couldn't be replicated or conjured on this trek.

Mark wasn't the only trekker using equipment new to him. Dinesh, then 26, a computer web designer, was also on the trek. He lost a leg to cancer when he was a boy. Before Dinesh left San Antonio, a company there donated a new prosthetic leg especially for the trip – a model rigged for cold weather and rough terrain. While in the Austin airport, his daypack rubbed against a switch in the leg, that controls the bend in the knee, sending him tumbling. Fortunately, he wasn't hurt. He was still getting used to the new device.
The predominant religion of Nepal is Buddhism. This is reflected in all the monuments we saw and Buddhist priests we met during our expedition. The common greeting, when meeting another person, is "Namaste." Which I'm told translates to "I salute the God within you." Other translations include, "I honor the spirit in you that is also in me" and "The Diving wisdom in me recognizes and acknowledges the Divine wisdom in you. All interpretations evoked a sense of respect and the recognition of good in others. I believe most, if not all, of our Sherpa were Buddhists.

We crossed over many rivers, on suspension bridges. Some bridges were at least 50 yards long. Attached to each bridge were hundreds, perhaps even thousands colorful silk scarves or katas. I was told these are prayer flags. When the Buddhist priest gives you a prayer flag, you attach it to the bridge and as the flag waves in the winds, your problems will be taken away.

We stayed in Kathmandu for several days to acclimatize. That is to say we got accustomed do the higher elevation, and thinner air. During that time we toured the city and passed by many Stupas, which are monuments to Buddha. These structures can be as large as a house. They appear to be domes. Along their perimeters are prayer wheels. These are tubes mounted vertically, with an axel running through the center from top to bottom. Each prayer wheel was about the size of a 2-liter soda bottle. On each tube, or prayer wheel, is a prayer written in sutra. We saw many people pass by these prayer wheels and touch each one, causing them to spin. I was familiar with this practice and was inclined to do the same thing, as were many of my fellow trackers. The concept of the prayer wheel is a physical manifestation of the phrase "turning the wheel of Dharma," which describes the way in which the Buddha taught. The benefits attributed to the practice of turning the wheel are vast. Not only does it help wisdom and compassion arise in the practitioner, simply touching a prayer wheel is said to bring great purification.

We wandered in and out of many storefronts. There were no curb cuts or ramps. That's pretty much what I remembered from my previous trip to Kathmandu. I believe we were as much of a novelty to the Nepalese as they were to us. I doubt they'd ever seen several people in wheelchairs in one place, let alone just one. I recall years earlier I had visited Nepal and got to see the rehabilitation center in Bhaktapur. It wasn't wheelchair accessible. That struck me as odd. I wasn't surprised that office and factory buildings weren't wheelchair accessible, but a rehabilitation center? I later learned that when it opened, it served people with intellectual disabilities and the deaf. Neither of those groups required wheelchair access, yet they were identifiable groups who needed rehabilitation services.

During our daily forays in the city I became acquainted with my fellow trekkers. I learned who was a serious adventurer and who was motivated to be there for other reasons. Take Matt for example, at 24, he was one of the youngest trekkers. He became a paraplegic by way of an accident only a few years earlier. Now working at Wal-Mart, Matt loved sports and had boundless enthusiasm. He had an infectious smile. He just didn't have any real travel experience.
Mark (or deaf Mark as I called him to distinguish him from wheelchair Mark), on the other hand had been looking forward to this type of trip. Mark was deaf and worked at the school for the deaf in Austin. At 28 years old, and an avid bicyclist he was one of the true athletes on our expedition. He grew up dreaming about Everest and thinking about the cultures of Nepal and Tibet. He dreamed of seeing Mount Everest up close and personal.
Mark would need an interpreter. That person eventually turned out to be Christine. Fortunately for Mark, Christine was also an outdoor enthusiast any had a great fascination for Mount Everest. She also has a passion for adventure. She was about the same age as Mark and also worked at the school for the deaf in Austin.

The first interpreter and several "would be trekkers" dropped out of the team. It seems that members of the challenge trek team changed quite a bit since this expedition was announced in February 2002. By time we left for Nepal in March of 2003, we were looking at a revised list of trekkers. No doubt the result of self-culling brought on by the financial and anticipated physical demands of this expedition. Even deaf Mark dropped out early in our trek. We were on the trek when we learned the Iraqi war started.
When Mark learned that, he felt homesick and decided he should be at home with his wife.

After several days in Kathmandu we took an early morning flight by chartered Twin Otter airplane to Lukla (9,184ft), the trailhead into the Khumbu region. Several seats were removed from the airplanes to allow those of us in wheelchairs in stay in our chairs during the flight. This provided a far more comfortable loading and unloading, as we didn't have to be manhandled by well meaning but inexperienced helpers. Instead of grabbing onto me, they grabbed onto my wheelchair when they needed to move me. The plane was cramped and we couldn't fit more than two people in wheelchairs side-by-side in the plane. People that didn't need wheelchairs filled in the gaps. From the very front of the plane to the back, all you could see was happy faces. We were packed in like sardines but it was all part of the adventure.

The Lukla airport is considered by many to be the most dangerous airport in the world. It has a very short, narrow runway and it's nestled between several fountains. If we rolled off the runway here, we would roll off the mountain. There have been several fatal accidents here. The weather was cool, crisp and clear so I didn't expect any weather related airplane problems. Now it felt like the adventure was really starting.

Lukla is a small village and a popular stopover for tourists and trekkers. When we were unloaded from the plane we found an audience of villagers with questioning looks on their faces. Perhaps they were wondering who these strangers were and why were they in their little Village. Their eyes followed our each and every move. They kept a comfortable distance from us and formed a semi circle around us as if they expected us to perform for them. I think tourists were the only form of entertainment in this village.

We got our tents set up close to the one-story huts. Riley and Matt wanted to have a look around. There were steps everywhere. In order to get anywhere it seemed like they had to go either up or down steps. The Sherpas wanted to help but Matt and Riley insisted on making their own way.

The Sherpas' concern was well founded. They were remembering an incident they had witnessed back in Kathmandu when Matt and Riley pulled a stunt more suited to teenagers than grown men. Matt noticed a narrow alley, lined by brick walls, as they had been exploring the city. It had a significant downward slope, manageable on foot but anything rolling down this alley would pick up considerable speed. Matt's eyes lit up, and he popped a wheelie. He stayed balanced on his back two wheels of his chair and rolled up to Riley, motioning to the alley with his head and said, "What do you think?" Riley, who had broken his back in a skiing accident while attending West Point, never shied away from a challenge. Still, raising his eyebrows, looking pensive, one might say he looked doubtful. All eyes were on Riley as Matt waited for his response.

Matt broke his back in a motorcycle accident. Now, at 24, he still had the need for speed. Riley was 3 years older. They were like brothers of different mothers, encouraging each other. What most people didn't know is that Matt's level of spinal injury was lower than Riley's, resulting in more muscle control and more balance. The two of them lined up at the top of the alley, both balanced on two wheels. As everyone watched, they started down the alley. Matt quickly built up speed and moved out front. Riley tried to follow Matt's lead but somehow got too close to the wall on his right. Not willing to risk smashing his hand between his wheel and the wall, he let go of the wheel, lost control and smashed into the wall. He spilled out of his chair as everyone let out a collective gasp. Several Sherpa rushed to his aid. Riley was uninjured except for his pride. He explained that kind of thing happens all the time to guys in chairs. Still, one of the Sherpa scolded the rest saying they should never have let these two guys race down the alley.

After leaving Kathmandu, Matt and Riley's activities slowed down to what they thought was a safer pace. To begin their exploration of Lukla, Matt got out of his chair and scooted down some steps. Riley got out of his chair, took the rear wheels off both chairs and handed them down to Matt. The Two of them continued down the steps in this fashion until they reached the bottom. All the while the Sherpa talked amongst themselves saying, "Why won't they let us help them? They will hurt themselves." My concern was that if either one of these guys got a sore on his butt from going up and down steps, he would have to stay in bed to heal up. At the bottom, the guys reassembled their chairs, got in them and acted as if it was an ordinary day. They made their way around town then back up the steps. Because their bodies were
not yet acclimatized to the elevation, they paid dearly for it the next morning. They had headaches, nausea, and fatigue. Every simple movement was a painful strain for them. As a former visitor to Nepal, I saw this coming. I also knew nothing I could have said would stop these guys. Besides, I thought it made a statement about our willingness and persistence to accomplish our task.
While Matt and Riley burned off some energy, I was getting re-acquainted with Tsering Sherpa. I met Tsering in '92 on my first trip to Nepal. He led us (me and my friends from Kent State) on the Annapurna Circuit, a popular trek in Nepal. Back then he amazed me with his situational awareness. We had a child with us and Tsering always knew where that child was, and he or one of the Sherpa he lead, was always between that child and danger. I was very pleased to see Tsering on our TE '03 expedition.

Like most Nepalese, Tsering was of slight build. He was about 5'6", and about 140 lbs. His face was well tanned from being in high elevation with so little atmosphere to filter out the sun's rays. He didn't look particularly strong but he, like all the other Sherpa, amazed us all with his physical prowess. The Sherpa could carry loads twice their weight over mountainous terrain at high elevations where the air is thin. At one point, a Sherpa carried Barry on his back, while Barry was still in his wheelchair, a load of well over 240 pounds. Though the Sherpa were strong and agile, this type of expedition was new for them and trekkers alike. We kept experimenting with how we got carried in the dokos. At one point someone attached long poles to one of the wheelchairs, and tried pulling the person as if they were in a rickshaw. In the end though, tradition won out and we got carried as all supplies have been carried for hundreds of years, over this mountainous terrain, on the back of Sherpa.

We were sure to attract attention wherever we went. People would stare, crowds would gather, some would look or motion to us as they talked amongst themselves. Not surprisingly, many Nepalese have never seen a person with a severe disability, especially at this elevation. As in most lesser developed countries, if someone gets a spinal cord injury as a result of a traumatic accident, they're likely to die. If they survive the trauma they're likely to stay home, as there is no real wheelchair access in lesser-developed countries. Children born with a mobility impairment are often institutionalized or are confined to home as well.

When we were carried in dokos, we were often separated from our chairs. Carried by doko through a village, I might be 50 yards ahead of the Sherpa that was carrying my wheelchair. I wondered if the villagers knew we were disabled or just thought we were lazy. Not having seen the wheelchairs, how could they think differently? If they had seen the wheelchairs, what did they think?
The Dallas Morning News chronicled every day. The DMN sent Lee, a writer, and Erich, a photographer. Using a satellite phone, they were in daily communication with their home office. Their duties were purely journalistic but that invisible boundary quickly evaporated. They learned far more about our lives than was ever printed in the DMN. They became part of our Team. I actually interacted more with them than my disabled counterparts simply because they were more mobile. On one occasion, Lee actually helped me get my hair washed, out in the open, over a large bowl. The quirkiness of our trek would have been lost if Erich hadn't photographed a Sherpa carrying Barry, while in his wheelchair, on his back. Erich also managed to capture our interaction with villagers when, on the second day of the trek, a 9 year old village boy was bitten by a dog. The dog had badly bitten his lip and face. Erich captured the moment Janis, our Team doctor, stitched up the boy's wound. After which, I understand, the boys mother went chasing after the dog. She wrapped a scarf around its neck as if to strangle it. She eventually released it.
Try as he might, Erich was never able to capture the real grandeur or essence of our sojourn. His photos were astounding, some unbelievably beautiful. No photographer, however skilled or experienced, could capture the majesty of our surroundings. Photos of the Sherpa dancing in the dining tent only hinted at the camaraderie we felt. The photo depicting Team member and pastor, Vince, blessing a Buddhist monk captured the shared spirituality. Lee immortalized our activity in writing. She recorded feelings and sentiments of the Team in a manner, I later learned, to be quite revealing. No secrets were lost on her. Emotions, ambitions, and trepidations, hidden from the camera lens, were exposed to all, everyday, in her DMN essays.

Andy, an independent filmmaker, videotaped our adventure. For his efforts, he lost 20 pounds. I'm surprised he didn't get a heart attack running back and forth, up and down the trail, trying to be omnipresent. Andy, and fellow videographer Reed, were up before the rest of the Team, and didn't get to sleep until Team activities ended for the day. They were able to capture some poignant moments, including the time my brother regaled the Team with his story of how he found out I became paralyzed. I cried when I saw that moment in Andy's movie about Team Everest '03.

Our progress was undeniable. We trekked from Lukla to Phakding along the Dudh Kosi ("Milk River"). As we crossed over valleys on suspension bridges, I felt a bit of exhilaration. Perched high on the Sherpa's back, I could easily see over the cables that held up the bridge. If the Sherpa slipped and fell sideways, I could have been tossed over the side of the bridge to land in a heap on the rocky terrain below. Mark's chair wasn't working and he didn't want to be carried so got out of his chair and scooted across bridges on his butt. Though Mark has a very strong upper body, he labored to cross the longer bridges.
All the guys in chairs wanted to wheel themselves. The terrain, however, wasn't very accommodating. Sometimes it seemed we were on some trail while other times it seemed we were making our own trail through bushes and over rocks. There were very few areas flat enough where someone could roll around. It was also scary being carried on someone's back. Riley told a story to which I could easily relate. As his Sherpa stopped to rest, the Sherpa faced the mountain, with his back to the valley, and sat on a stone ledge, with Riley in the doko, still on the Sherpa's back. As a result, Riley was suspended over the edge of the trail, far above the valley floor. If the strap across the Sherpa's head broke, there was nothing else holding up the doko, and that would be the end of Riley. Because of the way we were sitting in the doko, leaning back a little bit, we were unable to see the valley floor itself. From our perspective, it looked like the valley was bottomless.

I never really felt a sense of bonding with the other guys in wheelchairs. I expected to develop a kindred relationship with them. The other guys and gals were more mobile than me. Since I couldn't wheel myself, even on the smooth floors of lodges, I was relegated to the ranks of luggage and was carried everywhere, even on the relatively level trail to Tengboche. Sometimes I felt like a potted plant; people would just set me somewhere and that's where I stayed. I'm not sure what happened when we flew from Taipei for Bangkok, but when we got to Bangkok, the guys wanted to explore the town. After 24 hours sitting up in a plane, I was ready for bed. Perhaps my age was taking effect.
Perhaps it was a combination of the severity of my disability, age, and background that separated me from the others. I just felt like I didn't fit in.
Often times, on the trail, I found myself ahead of the pack. That had its perks. At the end of a trek, while some Sherpa set up camp, Tsering would go on a private mission for me. Tsering remembered me from my trek in Nepal 10 years previous. He also remembered what I liked to eat. He knew all the villagers on the trail so he voluntarily went out to seek the food I liked from the villagers. I liked noodle dishes and Tsering always found some for me. On the trail, evening meals, usually consisting of rice and vegetables, were served to us while we gathered in large tents. Breakfast was served out in the open. I don't think my fellow trekkers ever caught on as to why I rarely joined them at the dinner tent. I was beginning to relish my private dining moments. I found them peaceful and good for digestion. I couldn't deny my predilection for solitude may have prevented me from bonding with my fellow trekkers.

Everyday was another opportunity to enjoy the incredible beauty of the surrounding mountains. I was convinced their beauty was unparalleled. I also appreciated the unique camaraderie of fellow adventurers. Sharing these moments with like-minded individuals enhanced the experiences.
Nepal offered a plethora of emotion provoking sites. On occasion we would pass a chorten, a small stone memorial to honor a fallen trekker. Each was no taller than a person. Shapes ranged from piles to artistic towers. They stood against the winds, some more successfully than others. They evoked thoughts of our mortality. Would one of us become a fallen trekker? Would I become a fallen trekker? Taking stock of my mortality made the air seem fresher, food taste better and gives mundane tasks a sense of importance.

Tents were comfortable enough. On occasion we would happen upon a lodge. On one rare occasion, we found a lodge, where, to my great joy and the joy of others around me, I was able to get a shower. It was a cold one though as heating fuel, like every commodity on the mountain, was at a premium.
It was later suggested to me that taking a shower was a bit of a trekking faux pas. I was told it was rather burdensome for Sherpa to carry firewood up to the lodge. I felt for the Sherpa but I also knew that was one way they earned a living. Theirs was an onerous and dangerous occupation. Sherpa could be seriously injured or even killed while helping trekkers. When that happened, there was no formal financial relief for the family.

At the beginning of the third week we trekked to Dengboche. At 14,465ft, this village was dwarfed by the surrounding peaks, the world's 4th highest mountain, Lhotse (27,890ft) as well as Ama Dablam (22,493ft). Ama Dablam's ridges look like outstretched arms of a mother protecting her child. We rested and acclimatized in Dengboche. After acclimatizing, we trekked to Lobuche (16,170ft). The thin air was testing the resolve of all trekkers, even the ones being carried.

The landscape was now quite stark and reminded me of a desert, as there was no vegetation. We saw numerous memorials to lost climbers. Most memorials were piles of stone on top of which were placed prayer flags and occasionally pictures of fallen climbers. These monoliths also served as a reminder to the rest of us of our mortality. As with many extreme athletes, I have my own sense of mortality and have no fear of death. I don't have a death wish though. I have a life wish. All of us will eventually die but not all of us truly live.

All along the trail we stopped at Buddhist temples to be blessed by monks. Vince, a Team Everest member and man of the cloth, took the opportunity to also bless the monks. I thoroughly enjoyed this interplay and it goes to the heart of Nepalese culture. They respect the religion and preferences of every person.

Vince was a quiet person. We rarely interacted. At that time, I didn't know that in 2001, he climbed Aconcagua in South America, and Kilimanjaro and McKinley in 2002. His goal was to climb the tallest mountain on each continent and to plant a Bible on each summit. The month after the Challenge Trek Team reached base camp, Vince celebrated 5 years of being cancer free. Five years after our expedition, in August of 2008, Pastor Vince and several partners attempted to scale the Matterhorn in Switzerland. They were descending from the east side of the Swiss mountain when a storm moved in. Vince and another climber fell and both died. We mourn his passing. I lament I did not embrace the opportunity to get to know Vince. I would have enjoyed hearing about his spiritual quest and even accompanying him as a witness his romantic restlessness.

We trekked along Khumbu Glacier moraine to Gorak Shep, a group of herders' huts. It is so desolate, and the weather is so harsh in the winter that it is not inhabited year round. It was a challenging ascent which rewarded us with a 360° panoramic view of Himalayan peaks. We were now at 16,925 ft. elevation and the thin air challenged all of us. Physical excursion was measured and minimized. We were now only 3 hours from Everest Base Camp.

The ice and snow was foreign to many of the Texans on this trip. As a native Clevelander, it was quite familiar to me. I recall many a day, as a teenager, I rode our riding mower/plow up and down our lengthy driveway to clear off the snow. Back then I wore whatever clothes I could find. On this trek, however, I wore a down jacket from REI and a wind and water resistant coat from Altrec, another outdoor recreation specialty store. That clothing was designed for just this type of adventure. On the trek, I kept bundled up to shield me from the elements. My main fear on this trek was getting a respiratory infection such as pneumonia. Surprisingly, the winters in Cleveland, Ohio were harsher than the weather we experienced on the way to Everest Base Camp.

The last stop for us, before base camp, was Gorak Shep. It turns out Gorak Shep was my Waterloo. We weren't in Gorak Shep long before I realized something was wrong. I just didn't know what. I soon took ill. At first I thought it was from the altitude. Janis, our Team doctor, warned us about altitude sickness early in our trek. We even attended a briefing about altitude sickness. Altitude sickness occurs when you cannot get enough oxygen from the air at high altitudes. Air is "thinner" at high altitudes. When you go too high too fast, your body cannot get as much oxygen as it needs. So you need to breathe faster. This causes the symptoms of altitude sickness. Symptoms include headache, dizziness, nausea and shortness of breath. Severe altitude sickness can develop into life-threatening cerebral edema or pulmonary edema. As your body gets used to the altitude, the symptoms go away.

It turns out altitude sickness wasn't my problem. Instead, I was overwhelmed by another force of nature – my own body. It was shutting down. I knew my body was failing me but why? Thinking it was the altitude; I took a dose of medication that allows blood cells to absorb more oxygen. I lay down and hoped the prone position would help. I started bleeding through my nose and mouth. My brother Robert summoned Janis. I lapsed in and out of consciousness. I don't even remember them treating me.

Sometime in the early morning hours I remember Janis telling me he was sending me back to Kathmandu. I saw something in his eyes I had never seen before. It wasn't fear but something awful close to it. Since Day 1, Janis made it clear he was there to help. It was also clear his word was final. He didn't say it, but we all knew his word was law. An appeal to a higher power would only be possible with the intervention of Providence. That was not likely. Only a fool would argue under those circumstances anyway. I knew Janis had no recourse and that going back was the ONLY choice. His priority was to get me to a lower elevation to limit the negative effects of altitude. He also told me I probably had a twisted bowel and would have to be hospitalized. If symptoms didn't improve soon, I would need surgery.

It was the doctors' job to keep us physically healthy, but on this type of adventure he saw to our mental health as well. In fact, we all looked after each other.

When Janis told me he was sending me back to Kathmandu, he asked if I could live with that. You would have to know Janis to understand the nature of that question. It got to the very essence of our being on the mountain. Everyone had his or her own motivation for being there. For some, it was the lure of adventure; others had something to prove – perhaps to themselves, perhaps to others. There were as many reasons as there were people. Dinesh, for example, didn't want to go to Everest; he NEEDED to go to Everest, as did I. If others found our story inspirational then I was gratified. But that's not why I was there. I have traveled on six continents, I've engaged in many extreme sports ranging from skydiving to scuba diving, not because I wanted to. I needed to. Janis knew I had my own reason to be on Everest and wanted to know if my soul was at rest, if I accomplished my own goals. I was very disappointed I would have to turn back only a few hours from our destination – base camp. I failed in my attempt but was satisfied I had tried my best.

Knowing I had reached the end of my trek, I passed some of my possessions on to my fellow trekkers. I brought a bagel from Katz's restaurant, and a bottle of vodka from Tito's distillery to be offered at the Puja – a Buddhist ceremony to bless trekkers. The Puja would happen at Basecamp. Offerings of food and drink at Pujas are an important local custom. I also handed off the flag I brought. It looked like a US flag except that the field of stars is arranged to look like someone in a wheelchair – the international symbol of accessibility. My mother made the flag based on the flag of ADAPT, a disability rights organization. I wanted a picture of the guys in wheelchairs holding this flag at Basecamp.

I brought Jose, a former attendant from my time teaching in New Mexico, and my brother Robert with me as my attendants. Gary looked at the 3 of us and said, "One of you is going to have to go down with Gene." Robert volunteered. I knew he was disappointed he would not make it to base camp but it takes more than disappointment to break the bonds of blood. We said a few tearful good-byes to fellow trekkers, gathered our goods and headed out.

A rescue helicopter couldn't reach us at our altitude so Sherpa needed to carry me and my brother, Robert, down to Lobuche. Starting our decent, I rested in my wheelchair. The doc took the lead and, along with several Sherpa, started pulling me. Our decent would be much easier than our ascent, for two facts – one, we were working with gravity rather than against it. Also, we would not need to take time to acclimatize our bodies to the altitude. Still, nothing on Everest is ever easy, with the exception of forging life long bonds with people that become closer than family. For Janis and myself, we shared an experience we'll never forget but have no desire to remember.

We continued our descent until we reached Lobuche. Janis gave my brother Robert last minute instructions and said good-bye. At that altitude the helicopter could only carry one passenger so it carried me first down 2,400 feet in altitude to a medical-aid station at Pheriche. It then went back to pick up Robert at Lobuche, then came back, picked me up in Pheriche and took us to Kathmandu where I was hospitalized.

I should have used my time in convalescence to strengthen my bond with Robert. I just didn't know how. I did know he wasn't the same Robert I knew from previous travels. The old Robert was always happy and optimistic. The new Robert, having been diagnosed as bi-polar only a few years before our trek, was more of a realist. Reality is good to know but I don't want to live there. I like to think there is a solution to every problem. Robert knew better and his firmer grasp on reality weighed heavily on him. His former perpetual smile waned more often than not. He recognized and affirmed any short comings in our plans or activities. His former contentment was now replaced, on occasion, with displeasure. I could see the luster in his eyes was no longer there. His eyes turned from blue to gray to coincide with his faded enthusiasm. I convinced myself I could work on our relationship later. That was just a lie to relieve my immediate sense of brotherly responsibility. I never did fully embrace the 'new' Robert. He died several years after our trek. I will always regret I never reached out.

The rest of the Team trekked to Everest base camp (17,388ft); set up camp, rested, then had time to explore. The following day the Sherpa set up rigging for the Team to climb the Kumbu Ice Falls, a dangerous but beautiful area.
Having accomplished their goal, the Team departed base camp; descended to Gorak Shep, then Lobuche & Pherichhe. From Pherichhe, they took a chartered helicopter back to Kathmandu and eventually flights back to the US.
It's hard to put into words why I went to Everest. I can't say why I left the comfort of a fully accessible apartment in one of the most desirable cities in the country, to spend a small fortune on a physically draining trip in a cold climate, far from the comforts of home, lacking the convenience of on- demand medical treatment. I can't explain why I felt compelled to travel in 44 countries, and pursue adventure sports including skydiving, scuba diving, paragliding, and sailing. Perhaps I'm overthinking my quest or maybe I'm just too lazy for self-reflection. Upon further investigation, I found a word to describe my need to go to Everest: fernweh. It is defined as a consuming longing to be somewhere you've never been; an aching to be in a distant and unknown land. Where homesickness is a yearning for the familiar, fernweh is a yearning for the complete unknown—a place free from the limiting confines of our familiar society and home.

But the poet in me just wants to say, I'm one of the men described by Robert Service, in that poem, "The Men That Don't Fit In."

There's a race of men that don't fit in,
A race that can't stay still;
So they break the hearts of kith and kin, And they roam the world at will. They range the field and they rove the flood, And they climb the mountain's crest;

Theirs is the curse of the gypsy blood,
And they don't know how to rest.